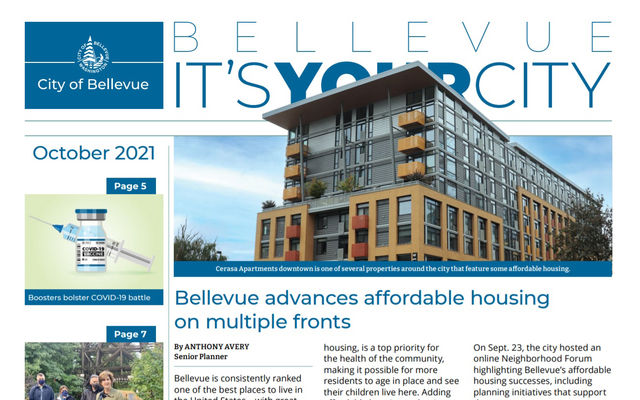 To meet the great need for affordable housing here, the city is implementing its strategy to add more units. That effort is explored in a front-page story in the October issue of It's Your City, going to more than 66,000 residential and business addresses in Bellevue this week. Highlights include:
D'Lights are back on: To cut through the gloom, we announce the return of Garden d'Lights to the Bellevue Botanical Garden, along with the Bellevue Downtown Association's ice rink and other Season of Cheer activities.
Eviction prevention and rental assistance: With state moratoria on evictions and utility shut-offs ending, the city is helping people stay housed through rental assistance, mediation between landlords and tenants, and emergency assistance for past-due water bills.
How to stay safe from COVID-19: With the late summer surge among unvaccinated people and even some who received vaccines, we remind residents of mask/vaccine mandates, along with availability of booster shots.
For the Council Corner column, Councilmember Jennifer Robertson discusses the transportation improvements – from light rail to neighborhood bike lanes to new highway on-ramps – that will conveniently connect Bellevue residents and workers to their destinations.
The next issue of It's Your City will come out in February.
Source: City News