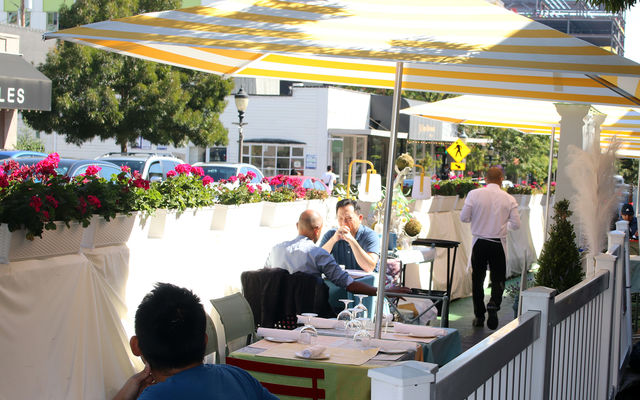 City seeking feedback on 2021 outdoor dining program
As fall approaches, the cooler temperatures and shifting weather mean the on-street dining areas on Main Street will soon wrap up for the year. These expanded outdoor dining areas will close after dinner service on Sunday, Sept. 19. Patios located on sidewalks will generally remain open as long as weather and demand allow. The city is encouraging residents to get out and experience the spaces, and then take a survey about the experience so programs can be improved in the future.
The on-street dining spaces were made possible by a close partnership between the City of Bellevue, Bellevue Downtown Association, and the Old Bellevue Merchants' Association, with sponsorship support from Microsoft. In addition to the on-street spaces dedicated to dining on Main Street during the program, the Heart of Bellevue Al Fresco program promoted more than 50 other restaurants and cafés with outdoor dining across the city.
"Our local businesses, the city, and customers deserve great credit for making the al fresco program a success," said Patrick Bannon, president of the Bellevue Downtown Association. "It's rewarding to see the special value it gives the community and our restaurants as they recover from the pandemic."
"The community needed safe places to gather, and our local restaurants stepped up to meet that need by pivoting to this al fresco dining experience," said Jane Broom, senior director of Microsoft Philanthropies for Washington. "We hope that this can be a part of the Eastside's future, and that everyone can enjoy the amazing flavors and cultures of this area."
As part of ensuring the program continues to be valuable for all stakeholders, the city is again seeking feedback on the Main Street dining spaces, to better understand how residents, business owners and visitors have used the spaces. This will help the city as they work with businesses to create more vibrant streetscapes in the future. In last year's survey, 80% of respondents said that the patio areas made them more likely to visit Main Street again in the future, and one in three said they made a purchase at a retailer while they were dining out in these spaces, indicating the dining areas benefit not just the restaurants, but area retailers as well.
"This survey is one way the city can better understand how residents and users of the spaces feel about the tradeoff between various uses of the street," said Mac Cummins, director of Community Development for the city. "This will help us plan for the future of the program on Main Street and, hopefully, develop other valuable programs across the city."
Residents and businesses can learn more about the city's outdoor dining program and complete the program survey at Outdoor Dining. In addition, restaurant operators can visit this page to learn more about options for outdoor space expansion during the winter months.

Source: City News