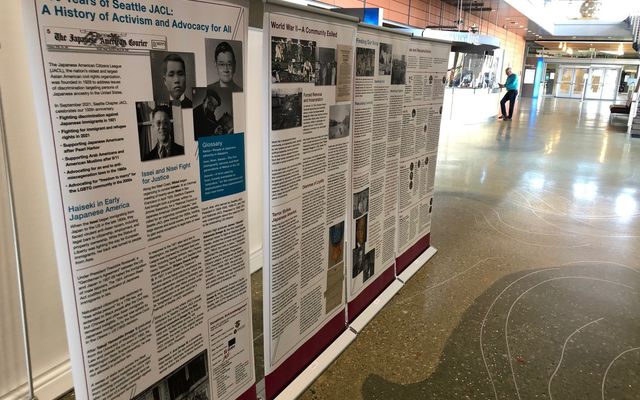 Through partnership with Japanese American Citizens League, educational panels on display
Now through the end of May, the concourse at City Hall is host to an educational journey through 100 years of history of the Japanese American Citizens League, the nation's oldest and largest Asian American civil rights/civil liberties organization. The exhibit is one of many activities the city is hosting in celebration and recognition of Asian American, Native Hawaiian and Pacific Islander Heritage Month.
The exhibit features nine panels with photos, timelines and stories of Japanese American experiences, including the history of discrimination and persecution faced by these communities in the United States. Also celebrated are the visionary leaders who helped form and sustain the Japanese American Citizens League and the many ways the JACL, along with people of all Asian, Native Hawaiian and Pacific Islander backgrounds, engage and enrich their community. Approximately 37% of Bellevue's population belong to these communities, with Japanese immigrants in particular playing a key role in Bellevue's early agricultural identity.
The City Council read a proclamation in early May declaring AANHPI Heritage Month in Bellevue, and the city held multiple staff events to celebrate the AANHPI backgrounds of many city employees. The JACL panels are available for both staff and members of the public to enjoy through May 31.
The JACL was established in Seattle in 1921. The national JACL was founded later in 1929. The first national JACL convention was held in Seattle and the first national JACL President, Clarence Arai, was from Seattle.
Source: City News