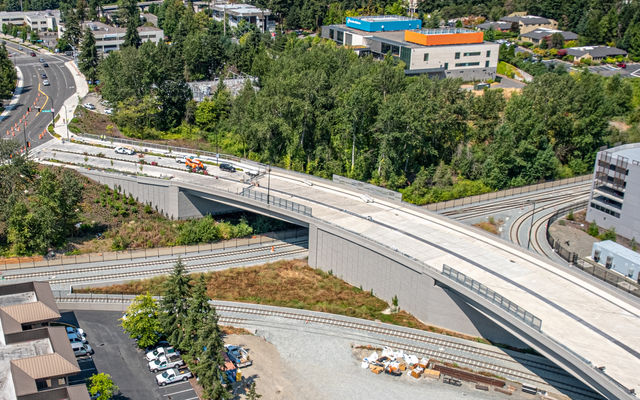 Use of Unmanned Aerial Systems technology will be used in key areas across various departments
The City of Bellevue is adding Unmanned Aerial Systems (UAS) technology to its toolkit to improve delivery of essential services to residents. The city completed an extensive assessment of various considerations to using UAS technology, including examining successful UAS programs at other cities in the region. The assessment concluded this technology would improve city services and offer key advantages in information gathering across many departments, where appropriate.
UAS technology has the potential to assist staff in a number of critical areas beneficial to residents. Examples include:
It gives transportation workers better views of projects from all angles to ensure quality control of structures. Use of UAS also offers a better understanding of traffic patterns, aids in education programs, and allows engineers and investigators to better assess crash scenes to determine if specific safety improvements could help prevent future crashes.
The technology is expected to reduce the hours spent on investigations following serious collisions by helping investigators more quickly recreate crash circumstances and allow streets to reopen much sooner.
UAS will help detectives document crime scenes, assist firefighters and emergency responders in assessing safety and strategy when responding to emergencies, and aid in disaster management.
Emergency workers can also deploy UAS technology during search and rescue efforts and send UAS systems into areas that may be unsafe for responders.
Along with the benefits to public safety and emergency response, UAS technology will allow Bellevue to communicate more effectively with the public. UAS can provide more complete and transparent images and videos of projects, events, and important features in the city.
Similar to other new systems or technology, Bellevue conducted a rigorous review and created a usage policy for the UAS program, including specific guidelines about equipment usage, appropriate purposes for gathering content, and retention policies that consider privacy and value to residents. In addition to an overall city policy governing how the technology is to be used, each department interested in employing UAS within their function must develop an approved department use case. As these use cases are deployed, they will be posted to the city's public UAS web page.
Any questions about the city's use of UAS are welcome at [email protected].

Source: City News