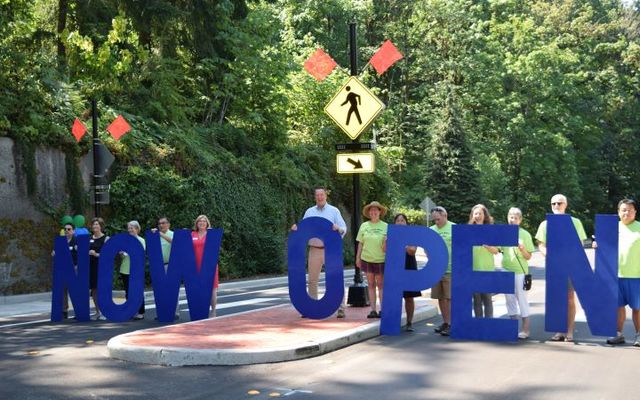 Years of collaboration between residents in the Eastgate area and City of Bellevue officials capped off today with a celebration marking the completion of a major transportation improvement project on Southeast Newport Way.
Community members and several city councilmembers commemorated the Southeast Newport Way Pedestrian and Bicycle Improvement project, which significantly improved safety along 0.85 miles of the roadway, from Somerset Boulevard Southeast to 150th Avenue Southeast.
"As an avid bicycle rider, I'm really excited about this huge improvement for Southeast Newport Way," said Mayor Lynne Robinson. "The project makes this section of roadway dramatically safer for all users – people who walk, bicycle, roll, take transit and drive. Thanks to everyone who had a hand in making this project a reality."
Previously, there were no sidewalks or bike lanes along the corridor, which includes a community center, library, school and church. Improvements today include:
A 10-foot wide, mixed-use path for pedestrians and bicyclists on the north side of the road; a 5-foot-wide bike lane on the south side of the street; and a 10.5-foot wide vehicle travel lane in both the eastbound and the westbound directions.
A 6-foot wide sidewalk on the south side of the street, between 150th Avenue Southeast and the South Bellevue Community Center.
Nine new retaining walls, replacement of some sections of guardrail, new lighting, and signage.
New drainage infrastructure to meet the city stormwater code, and other utility improvements.
Planning for the project traces all the way back to 2012 when voters in the Eastgate area of unincorporated King County approved annexation into the city of Bellevue. That led to a push in 2014 by a citizens' group advocating for safety improvements. In response, the City Council created a project that eventually led to the current upgrades.
The total cost of the project is estimated at $10.5 million. More information is available at BellevueWA.gov/newport-way.

Source: City News