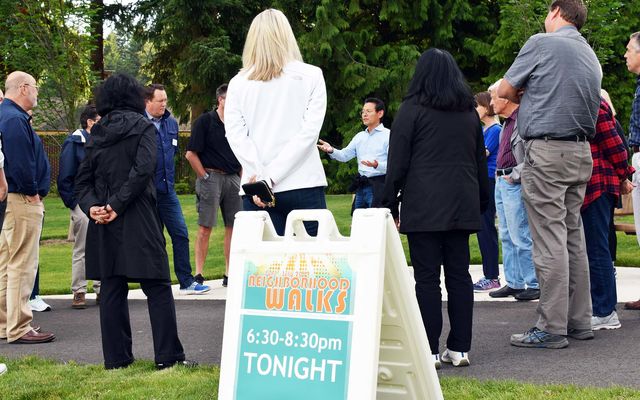 Plus, success of Neighborhood Walks, latest development activity and environmental education center name discussed
On Monday, the City Council reviewed the first of a series of topics – building height and housing – related to a Land Use Code Amendment (LUCA) for the area around the East Main light rail station.
The discussion focused on building heights, a minimum housing requirement and affordable housing incentives for the area just south of downtown, with key considerations for the city's substantial jobs and housing imbalance and shortage of affordable housing. The council reviewed three options for varying heights, minimum residential requirements and affordable housing incentives. Part of the city's strategy in this area is to potentially allow higher building heights in exchange for housing and, especially, affordable housing. The council is scheduled to continue discussions related to the East Main LUCA on Oct. 4.
Study sessions for the East Main LUCA will take place through December, with council action anticipated. The full council discussion on this week's topics is available on Bellevue Television replay.
Success of Neighborhood Walks
Also this week, councilmembers received a review of this summer's Neighborhood Walks held in person in Northeast Bellevue, Somerset and West Bellevue as well as online through a citywide virtual Neighborhood Walk.
The walks, attracting more than 100 residents this year, are designed to provide an informal venue for two-way interaction between city leaders and the public, where residents can share what is important in their neighborhoods. Top areas of interest during the walks this year included public safety and police services, neighborhood character and connections, homelessness and human services, transportation planning, growth, and the environment.
Bellevue's Neighborhood Walks series began in 2017. The full presentation and more details on the program are available in the meeting materials.
Latest development activity
The council received an update on development activity in the city during the first half of 2021, including an overview of projects under construction or in various stages of the development process, and a look ahead at what new projects are anticipated over the next 12 to 18 months.
Development activity in Bellevue continues at a high level, with strong interest in new residential and commercial projects. Permit activity saw a dip last year due to COVID construction shutdowns, but has recovered rapidly since
Despite challenges posed by the high number of applications and the need to quickly adjust city services due to the COVID-19 pandemic, Development Services continues to demonstrate a commitment to continuous improvement with several process and technology enhancements. Staff shared highlights of accomplishments in the last year, ongoing improvements and major initiatives planned for the year ahead, including a permit tracking system, increased use of the Virtual Permit Center, delivering online access to construction codes with state and local amendments, enhancements to the Weekly Permit Bulletin and improving public access to permit data.
The full presentation is available on video replay through Bellevue Television.
Change to environmental education center name?
In other business, the council discussed a proposal by Councilmember Conrad Lee to rename the Mercer Slough Environmental Education Center to the Jim Ellis Environmental Education Center at Mercer Slough.
Council members discussed Ellis' contributions to Bellevue and the region through many environmental efforts. Ellis, who died in 2019, led drives to restore the health of local waterways from Lake Washington to Mercer Slough, pushed for the creation of the education center and was founding president of the Mountains to Sound Greenway Trust, among many other community works.
The council voted unanimously to send the proposal to the Parks & Community Services Board, which has specific criteria and a defined process for naming a city park or facility. The proposal details are in the meeting materials.
Source: City News