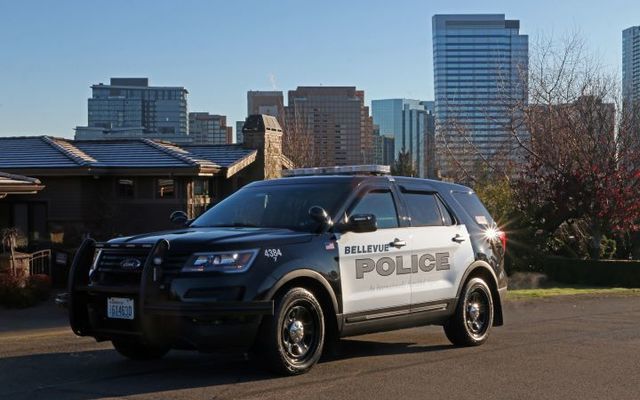 Plus, I-405 project update, preview of major road closures and accessible changing tables coming to a park near you
On Tuesday, the City Council unanimously passed a resolution to approve the use of a body-worn camera program for Bellevue Police. The vote came after the council was briefed on further progress made in the fourth quarter of 2021 toward implementing recommendations for police use of force policy improvements.
The body-worn camera report noted that Bellevue Police has been researching the program for a couple of years and already has in place a body-worn camera steering team to manage further program research and development. In addition, the department held a community meeting on the program earlier this month giving community members a chance to offer feedback and ask questions. Ninety-four percent of those attending the meeting were in favor of body-worn cameras for patrol officers. A body-worn camera program would also assist the department in complying with 2022 state law requiring certain police interviews to be audio and video recorded.
Related to the use of force progress report, the city police staff initiated a review of the department's use of force policies in 2020. Bellevue hired a third-party consultant, the Office of Independent Review Group (OIR), to conduct a comprehensive review of the department's practices. OIR delivered a final report with 47 recommendations for policy improvements in April 2021.
In Q4 2021 the department responded to 12 additional recommendations, bringing the total number of recommendations enacted or assessed to 32 of 47. Many of the recommendations were already common practice in the department but needed to be formally incorporated into policies.
The full council report on both topics is available on replay through Bellevue Television and full details are available in the meeting agenda.
I-405 project update, preview of major road closures
Also on Tuesday, staff from the state Department of Transportation (WSDOT) provided the council an update on the I-405/Renton to Bellevue Widening and Express Toll Lanes project, including a preview of two downtown area road closures anticipated to begin in March 2022.
The Renton to Bellevue project is part of the I-405 Master Plan, created in 2002, intended to reduce congestion and expand multimodal options. It includes more than 150 projects to improve travel between Lynnwood and Tukwila.
As part of the Renton to Bellevue work, to widen I-405 in Downtown Bellevue, WSDOT will demolish the Main Street Bridge and build a new one. This will require the full closure of Main Street, from 112th to 116th Avenue, for 150 days (about five months) beginning as early as March 1. Bridge work is anticipated for completion in August 2022. During the closure, traffic will be detoured to Northeast Fourth Street.
To demolish the Main Street Bridge, WSDOT must fully close I-405 in both directions for a weekend. The timing of the weekend closure is weather-dependent but could be as early as March 5-6. The detour for northbound traffic will run on 116th Avenue, from the Lake Hills Connector exit ramp to Northeast Fourth Street; the detour for southbound traffic will run on 112th Avenue, from Northeast Fourth Street to Southeast Eighth Street.
WSDOT staff also highlighted a milestone for the Renton to Bellevue project: completion of a 2.5-mile section of the Eastrail pedestrian and bicycle trail, south of Coal Creek Parkway.
More information on the Renton to Bellevue Project, including detour maps for the Main Street and I-405 closures, is available in the council agenda materials.
Accessible changing tables coming to a park near you
The council also learned about new accessible changing tables for adults and children being installed in eight locations around the city at parks and recreation facilities in 2022 and 2023.
A grant of $97,000 allocated during the 2020 legislative session offered the city enough funding to purchase, install and maintain 13 accessible changing tables in eight city restroom facilities at key sites around the city, creating a network of nearby accessible changing tables for those who need them. The tables allow community members with access and functional needs to meet their specialized hygiene needs without having to travel back home, meaning they can more fully enjoy the community, events and longer outings in the city.
More detail on the project, including the full list of locations, is available in the meeting materials.
Source: City News