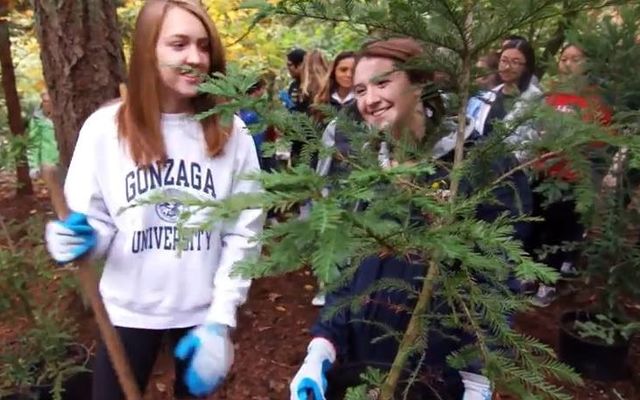 Opportunities for Eastside residents to take action on climate
In celebration of Earth Day 2022 and just days after the Bellevue City Council proclaimed formal recognition of Earth Day and Arbor Day this month in Bellevue, the cities of Bellevue, Issaquah, Mercer Island and Redmond have partnered to launch the regional Eastside Climate Challenge. The challenge provides community members and organizations with new and exciting opportunities to learn about climate change solutions and help achieve communitywide climate action goals.
The Eastside Climate Challenge is a free roadmap for households to reduce their carbon footprint and live healthier, more affordable lives. With over 80 ideas to significantly reduce carbon output and save money, as well as 30 actions on emergency preparedness and community resilience, taking action could save households over $3,000 per year.
Each city will organize its own climate challenge under the Eastside Climate Challenge umbrella. People living outside of the four participating cities are still welcome to sign up.
"The City of Bellevue is committed to taking bold action to address climate change and enhance sustainability," said Bellevue Mayor Lynne Robinson. "If we want to play to win in our climate actions and make our goals a reality, we need the help of residents, businesses and community organizations to collectively reduce greenhouse gas emissions."
"Working together as a community makes a difference and we wanted to provide our residents with more opportunities to partner on climate solutions and resiliency," said Redmond Mayor Angela Birney. "Redmond is proud to have led the research for this collaborative effort."
"Every time Earth Day comes around, residents ask me: 'What can I do to address climate change?'" said Mary Lou Pauly, Issaquah mayor. "The Eastside Climate Challenge will help each of us do our part to mitigate the worst climate impacts in an easy and meaningful way."
"Everyone plays a role in meeting local and regional emissions goals," Mercer Island Mayor Salim Nice said. "I hope Mercer Islanders will join my family and me in the Climate Challenge. Together, we can make a difference."
The four partner cities are all founding members of the King County-Cities Climate Collaboration (K4C), which has a target of halving greenhouse gas emissions by 2030. Individual household actions are essential for the Eastside cities to reduce emissions and achieve climate action plan goals. Approximately 40% of the Eastside cities' greenhouse gases come from four basic household activities: transportation, heating, electricity use and waste generation. But simple household changes can add up to a substantial impact and there are now affordable options for residents to take action, reduce their impact and save money.
The Eastside Climate Challenge will support community members in taking action together with their neighbors, friends, families, clubs, service groups, faith communities, coworkers or any community they belong to that wants to participate. This challenge is launching for Earth Day 2022 but will be available for all residents on an ongoing basis throughout the year.
Community members can sign up for the Eastside Challenge, or learn more by attending one of the Climate Challenge 101 workshops hosted virtually this spring.
About the Eastside Climate Challenge: the cities of Redmond, Bellevue, Issaquah, and Mercer Island have partnered with the nonprofit organization Community Climate Solutions to host the Eastside Climate Challenge. CCS is a California-based nonprofit that provides cities with an online tool to help their communities learn about climate solutions and take action.
Source: City News