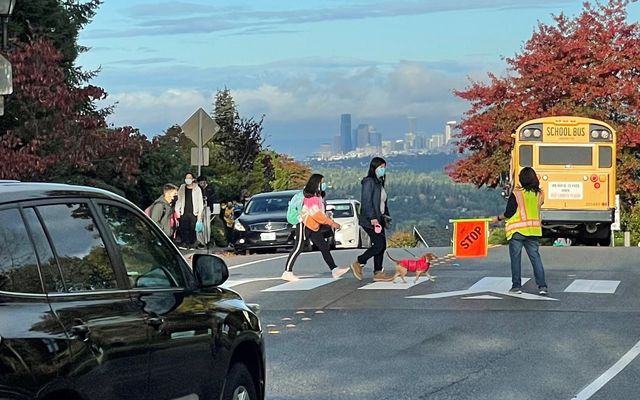 As part of its Vision Zero transportation safety efforts, the city is inviting Bellevue School District students, parents and neighbors to help make walking and bicycling safer on routes near their school buildings.
Starting this month, Bellevue will launch a series of six road safety assessments for streets near schools that are part of the city's "high injury network" – a relatively small number of city streets where most fatal and serious-injury collisions occur. Results of the assessments will be used to make on-the-street safety improvements through city transportation projects.
Those interested in helping can respond to a short online questionnaire and/or request to take part in an upcoming "walking audit" near their school. Both options are available on the project webpage at BellevueWA.gov/road-safety-assessments. Below is the schedule for the first walking audits in late January, and the locations of future audits.
Sherwood Forest Elementary School and Interlake High School walking audits are on Thursday, Jan. 20, 5-6 p.m., and on Saturday, Jan. 22, noon-2 p.m.
Highland Middle School walking audits are tentatively set for March 2022. Dates and times will be shared through school communication channels and posted on the project webpage.
Sammamish High School, Stevenson Elementary School and Odle Middle School combined walking audits are tentatively set for April 2022. Dates and times will be shared through school communication channels and posted on the project webpage.
In 2023, three more walking audits will be held for International High School; for Newport High School; and a combined audit for Big Picture School, Lake Hills Elementary School, Phantom Lake Elementary School and Tillicum Middle School. Dates for those road safety assessments have not yet been scheduled.
In addition, for those interested in taking part in a road safety assessment focus group, please contact Franz Loewenherz at [email protected].
A road safety assessment is a proven tool to identify safety issues, particularly for vulnerable travelers such as pedestrians and bicyclists; it's a key strategy of Bellevue's Vision Zero initiative to eliminate traffic deaths and serious-injury collisions on city streets by 2030.
The assessments will use local knowledge from parents, students, staff and neighborhood residents who regularly use streets near schools to capture insights that might not be revealed through a more traditional, technically-oriented safety review process. Data from traffic studies and best practices from the transportation industry also will be used to identify and prioritize safety solutions.
Funding for this study comes through a $150,000 grant from the Washington Traffic Safety Commission and a $42,758 match from the city.

Source: City News