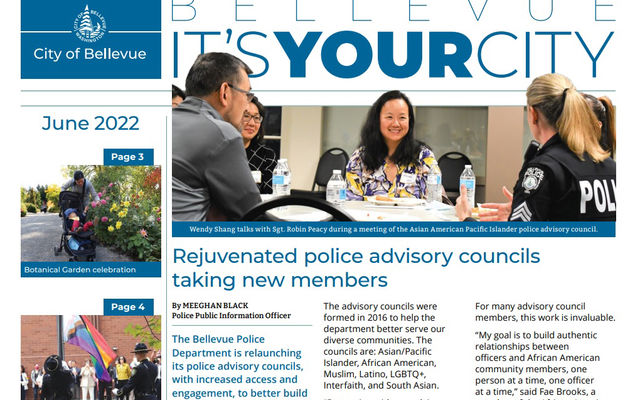 In the June issue of It's Your City, residents get an up close and personal view of the Homelessness Outreach program, which has helped over 50 unhoused community members move indoors to temporary or permanent housing, and has contributed to a sense of security in neighborhoods. The resident newsletter is going to all residential and business addresses in Bellevue this week.
Other highlights include:
Rejuvenated police advisory councils recruiting new members: After a hiatus during the pandemic, the city's police advisory councils are back in action and more involved the police department's training and policy than ever before. They help ensure equitable policing here.
Weighing options for funding new parks and trails: With residents telling the city they want more parks, trails and recreational facilities, the city is considering funding mechanisms, such as levies or bonds. Resident input will play a role.
City developing plan for aging lakefront sewer line: The Utilities Department is developing a plan for maintenance of an aging sewer line that runs along Lake Washington. The city is taking comments regarding the plan and a related environmental impact statement.
Council Corner concerns cross-cultural center: For this issue's Council Corner column, Councilmember Conrad Lee focuses on the city's effort to establish a place that could cultivate communication and relationships across cultures and differences.
It's Your City is published three times a year, in hard-copy and electronic versions. The next issue will come out in October. If you have questions or comments, please contact us. And for more information on Bellevue's coordinated communications program, please visit the city newsroom.
Source: City News