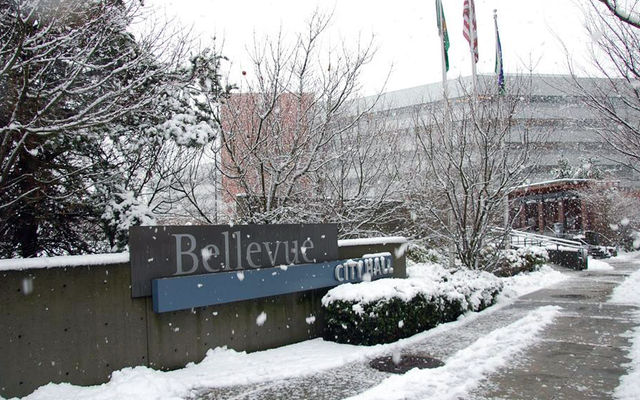 Flurries may fall in Bellevue this weekend
Cold temperatures and the possibility of snow are in the forecast for our area. According to the National Weather Service's Seattle office, Bellevue temperatures are expected to drop Friday night, with up to four inches of snow possible through the Christmas weekend. City transportation crews are monitoring the changing forecast and preparing to sand, de-ice or clear roadways of snow as needed.
With highs to barely rise above freezing Saturday and Sunday and a likelihood of at least some snow in most lowland areas, please keep in mind the below safety tips (also available in 繁體中文, 한국어, Русский, español and tiếng Việt.)
To report a power outage, please call Puget Sound Energy at 1-888-225-5773 or report it online.
Clear sidewalks of snow: While city crews plow and sand streets, we ask that property owners clear the sidewalks next to or in front of their home or business.
When driving, if the power is out and traffic signals are not working, treat the intersection as an all-way stop. Report road hazards in Bellevue by calling 425-452-7840 or emailing O&

[email protected]

. Service requests will be logged and prioritized.
To prevent frozen and broken pipes, wrap outside pipes with insulation (available at hardware stores) and let cold water drip from faucets. If you have a broken pipe, call 425-452-7840.
Prevent carbon monoxide poisoning: If your electricity is out, only use a generator outside. Charcoal or gas grills should also only be used outside.
Garbage pickup may be affected: Republic Services will publish service updates at RepublicBellevue.com.
Also visit our Shelters page for shelter availability during severe or extremely cold weather and our Snow and Ice page to find Bellevue's Winterize Guide in multiple languages. For the latest news about winter storms and the city's response, please check the city's Twitter page.
Source: City News