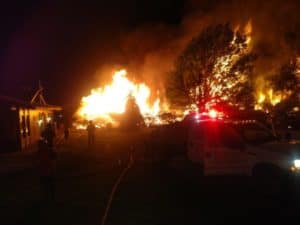 Early this morning a wildland fire threatened a mobile home park in Union Gap before being contained by firefighters. According to the Yakima Herald the fire is believed to be one of two fires intentionally set last night in the Yakima area.
Many times the news stories of a house fire involving a manufactured home, commonly referred to as mobile homes, are made even sadder when it is disclosed that the owners had no insurance and the family is having to depend on donations and GoFundMe campaigns. If the home is still financed, the bank requires insurance and usually includes the premium in the monthly payments but after the home is paid off, the owner may forget to keep the policy active. This doesn't have to happen. And if it does it is easily remedied by getting a policy started with a local independent agent like us.
What Does Mobile Home Insurance Cover?
While manufactured homes are built in a factory and moved, they really aren't much different than homes built on-site, and a mobile home insurance policy is very similar to a basic homeowners policy. The difference is that the normal homeowners policy has many common options bundled with it but you must pick and choose which options you want to be added to your basic manufactured home insurance policy.
Starting with just the basics, you will want coverage for your mobile home, your belongings, and liability protection. You will want to be sure the home's coverage is sufficient to cover any attached additions, such as porches and carports, as well as detached structures like gazebos and garages.
If you want more than just the 'basics', you can choose among many options, such as covering your personal belongings at replacement cost value (like most homeowners' policies) instead of at their depreciated value, called Actual Cash Value. Replacement Cost Value gives you enough money to replace your property with new stuff, versus just giving you what the items were worth. There are a number of other coverages you can choose from so that you can get the coverage you want, at a price you can afford. By working with one of our professional insurance agents, you can design a manufactured home insurance policy that fits both your needs and your budget by customizing the coverage you choose, the deductible you can afford, and the payment options that fit your budget.
At Mid-Columbia Insurance, we use Foremost Insurance for most of the manufactured homes we are asked to insure. Foremost has been insuring mobile homes since 1952, but what makes it the best mobile home insurance company is its breadth of options. Policyholders can choose a standard mobile home insurance policy, but they can also add a ton of endorsements. One of its most popular endorsements is replacement cost for your home as well as your belongings. These options are typically included with a standard homeowner policy, but they are not common in mobile home insurance.
Mid-Columbia Insurance – Your Trusted Insurance Broker
Give our insurance professionals a call today at (509)783-5600
or click "Get a Quote" to request a quote on your insurance. At Mid-Columbia Insurance, our goal is to get you the coverage you want at a price you can afford!
Español: Asegurar Su Casa Móvil
Article Source: Mid-Columbia Insurance Agency