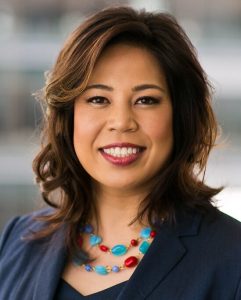 Rachele Bouchand will take over as Rotary District Governor in 2024, a position she's spent her adult life preparing for. She just didn't know it.
Rachele joined Bellevue Rotary in 2009 and 10 years later, she was elected president of the 180-member club. In that timevv she has seen how Rotary connects others but mostly how Rotary impacts the community, something she'll see close up in the year she's District Governor as she visits the 50 Rotary clubs in District 5030 – from Mill Creek to Enumclaw, Vashon Island and everything in between.
"Rotary is a grassroots organization," she said. "The District Governor's role is more about connecting people and clubs, knowing what the clubs are doing and making connections between clubs. We are one organization and members are not limited to only their club. The district can help members collaborate and share resources across clubs."
It's making those personal connections that also guide Rachele's professional life as a financial advisor. She's managing director of Pathstone in Bellevue, where she advises high net worth families and individuals on securing their financial futures now and for generations to come.
Rachele didn't start out her professional life as a financial advisor. She graduated from Harvey Mudd in Southern California with a degree in biology and went to work at Genentech "in a lab with no windows."
She learned that science "is a profession for introverts, and that's not me. I went into financial services early on…I had great mentors along the way," especially a retired math professor who had become a financial planner. "For me it was a perfect profession, using my analytical side, putting financial plans together and problem solving with people and what makes sense for their families."
And when she was elected to lead Bellevue Rotary, she reached out to members for their thoughts and advice. "I was amazed and gratified how generous Past Presidents and members were with their time. Talking with all these people with different perspectives helps me grow personally."
Rotary is a family affair for Rachele, whose husband, Blaise, and 4-year-old daughter Charlotte, frequently join Rochelle at fellowship events.
In addition to her activities with Bellevue Rotary, she currently serves on the Rotary District DEI Committee and Rotary District Strategic Visioning Team. Rachele was also a member of the Rotary International Next Generation Conference in 2014 and as a member of the Global Polio Finance Committee.
Source: Bellevue Rotary Club