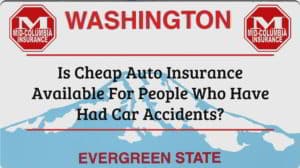 You know that a fender bender will increase your car insurance rates. And a second accident will hurt your rates even more.
Statistically, the more accidents you have, the more likely you are to have another. How long will it take for your car insurance to go back down after an accident? And is there a way to lower car insurance costs, now, after having an accident?
Most insurance companies in Washington will drop any accident surcharge after three years although you may not get the "accident-free" discount back until you have gone five years without an accident.
But there is hope for those who want cheaper car insurance but have had a few car accidents. Here are some tips for how to find affordable car insurance.
Shop Around. The first thing you need to do is compare the rates from different companies. This way, you can see how they compare price-wise. An independent agent can help with this process by shopping multiple companies for you.
After providing some basic information about you, your car, and your driving record, the agent will provide you with some options from companies willing to insure you. From there, you can choose which company is the best fit for you.
Seek Out Discounts. Most discounts will be automatically given to you but there are some you can choose. You may be able to receive a discount for paying in full or setting up automatic payments, for using a telematics device or app that monitors your driving for 6 months, or for taking a defensive driving class if you are over 55.
Choose a Less Expensive Vehicle. An older, less sporty vehicle will cost you less to insure. Especially if the car is not financed and won't require "full coverage"".
At Mid-Columbia Insurance we can help you shop for the coverages you want at a price you can afford even if you have had an accident or two. We will search multiple companies and find the one that offers discounts that fit you. And as your driving record clears, we can continue to look for companies that offer better rates.
For affordable car insurance, contact us at (509)783-5600 or use our online quote form
.
Article Source: Mid-Columbia Insurance Agency