Date posted: March 9, 2022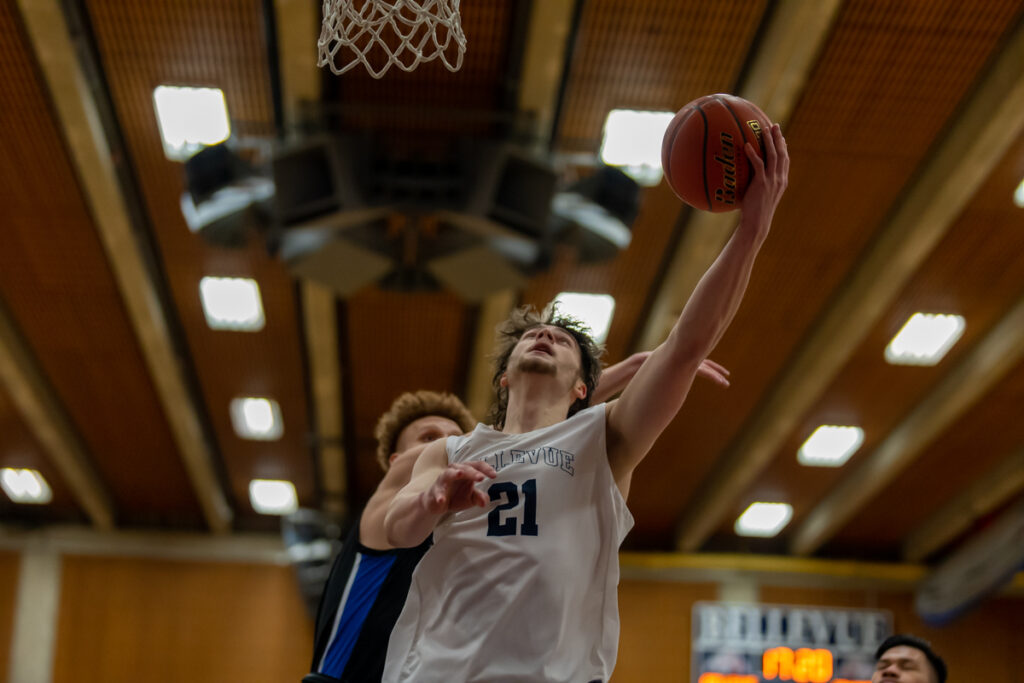 Bellevue College won their final home game of the year 98-91 over Edmonds tonight at Courter Family Athletic Pavilion. The win was Bellevue's fourth in a row and also sealed third place (actual league record tied for second with Skagit Valley but are placed third due to tiebreaker) as the 'dogs hope to carry that momentum into the Sweet Sixteen round of the NWAC Championships which begin next Thursday.
Although the Bulldogs won by a seven-point margin, Bellevue was in control much of the second half and maintained leads in between 15 and 20 points for much of the half. With just :44 to go in the game, Bellevue led by 17, 98-81 before the Tritons quickly cashed in on 10 points in the closing seconds as Bellevue's defense knew they had already wrapped up the win.
In a historic night shooting-wise, Bellevue was a perfect 11-for-11 from three-point range while Edmonds was a perfect 9-for-9. The run-and-gun tempo reminiscent of an NBA All-Star game that featured only 15 total offensive rebounds in the entire game was a highlight show of offensive prowess. 12 Bulldogs scored and were led by the 17 points of Aydan Janssan. Griffin Barker came off the bench and was 6-for-7 and led the team with eight rebounds.
Bellevue will now await the opponent selection for the Sweet Sixteen round of the NWAC Championships which begin Thursday March 17 at the Walt Price Center at Everett Community College. Details on the championship can be found here.
Last Updated March 9, 2022
Source: Athletics Department