Date posted: October 31, 2021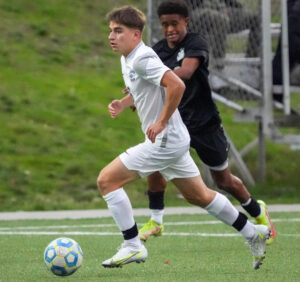 Bellevue College men's soccer lost 3-0 yesterday to Highline to close out the regular season. Although the season ended in a loss to their West Region rival, the Bulldogs season continues as they now prepare for their playoff match at Rogue on Wednesday.
Highline drew first with a goal midway through the first half to go up 1-0. In an evenly played first half, the 'dogs were still in it. In the second half, the T-Birds gained more control in a more dominating second half as fatigue wore in for Bellevue, getting outshot 7-2 in the final 45 minutes. Highline added a second goal early on in the second half at the 54:29 mark then tacked on an insurance goal late by Joel Lozano.
Bellevue finishes regular season play at 5-6-2 (6-7-3 overall) and will head on the road Tuesday for their opening round playoff game (loser out) at Rogue (OR), who finished second in the South Region with a 6-2-2 record. The two squads met in pre-season play, with Bellevue falling 7-0 in late August. Kickoff Wednesday is set for 12:00 p.m. in Medford.
Last Updated October 31, 2021
Source: Athletics Department