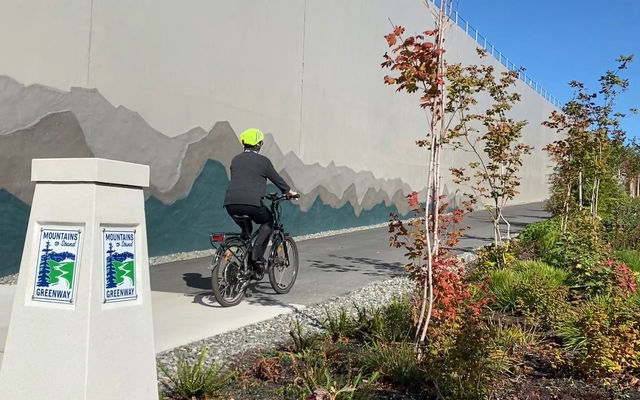 Bellevue has won a 2022 transportation project of the year award from the American Public Works Association for building a section of the Mountains to Sound Greenway in Factoria that features a tunnel and a bridge for walkers and bikers.
The national award, in the $5-$25 million project category, recognizes work on the trail from Interstate 405 to 132nd Avenue Southeast, parallel to I-90. It's the first of six segments planned in Bellevue to fill a 3.6-mile gap in the Greenway, which stretches from Seattle to central Washington.
The 0.8-mile-long, $17.7 million section includes a tunnel under an off-ramp from I-405, a 12-foot-wide bridge over Factoria Boulevard and colorful mountain images incorporated in the trail's concrete retaining walls.
"We are extremely pleased with the way this safety improvement project turned out, and it's great that professional peers share our enthusiasm," said Transportation Director Andrew Singelakis. "Thanks to APWA for the honor and thanks to our talented, hard-working engineers, inspectors and other city staff, plus our consultants and contractors."
The last time Bellevue won an APWA national transportation project of the year award was in 2013 for the addition of a sidewalk, bike lanes and crosswalk to 108th Avenue Southeast near Enatai Elementary School. That award was in the under $5 million project category.
Bellevue staff accepted their state award on April 14; the national awards will be handed out in August during APWA's national conference.
More information is available at Mountains to Sound Greenway.
Source: City News