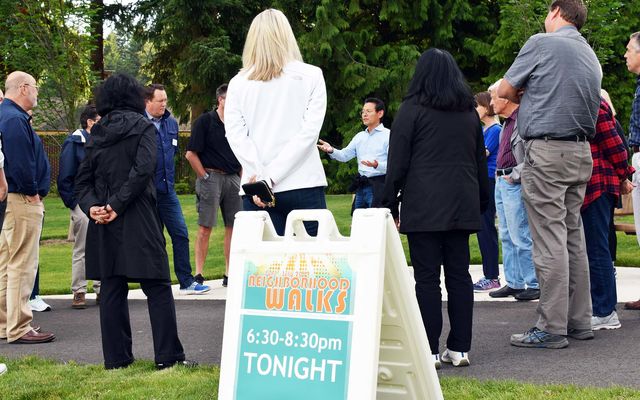 After a year of virtual programming, the city's Neighborhood Walks program will again be in person throughout Bellevue neighborhoods in 2021. Bellevue's Leadership Team (including the city manager, department directors and other staff) will visit with residents in Somerset, West Bellevue and Northeast Bellevue this summer, along with one virtual citywide walk.
Whatever neighborhood you call home, you are invited to join in and share what's unique about your neighborhood while you meet city staff. All of the walks are 6:30-7:30 p.m.
Schedule
Somerset
Tuesday, July 27
Start/End: Somerset Elementary School, 14100 Somerset Blvd. SE
West Bellevue
Thursday, July 29
Start/End: Enatai Park ("Pit Park"), 10643 SE 25th St.
Virtual Citywide Walk
Tuesday, Aug. 3
Reservation required. Email [email protected] for reservation and link.
Northeast Bellevue
Thursday, Aug. 5
Start/End: Ardmore Park, 16833 NE 30th St.
Questions? Reach out to [email protected].
Source: City News