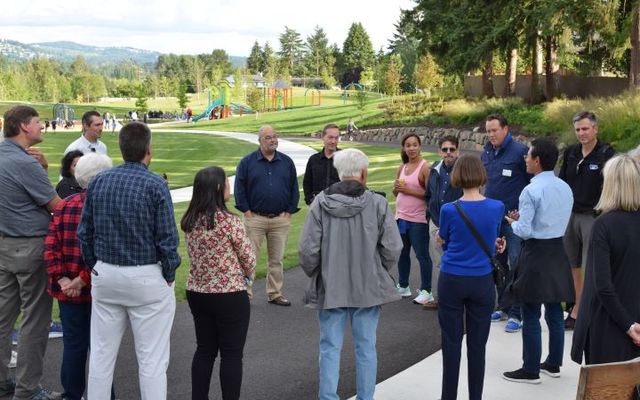 Walks connect residents with Bellevue city staff
For the sixth summer, City Manager Brad Miyake and city department directors are visiting Bellevue neighborhoods to walk and talk with residents during the city's Neighborhood Walks. Residents have an opportunity to visit in-person with city staff and to share thoughts on their neighborhood's character and emerging concerns.
Residents who don't plan to walk the route are still welcome to come and meet neighbors and city staff at the gathering point before the walk starts. Whatever neighborhood in Bellevue you call home, you are invited to join in and share what's unique about your neighborhood with city staff at these events.
2022 Schedule
Eastgate Neighborhood Walk
Thursday, July 7, 6:30-8 p.m.
Gathering at Aldersgate Methodist Church parking lot
14230 Southeast Newport Way
Wilburton Neighborhood Walk
Tuesday, July 12, 6:30-8 p.m.
Gathering at Wilburton Hill Park
12400 Main Street
Bridle Trails Neighborhood Walk
Tuesday, July 19, 6:30-8 p.m.
Gathering at Cherry Crest Mini Park
2532 127th Avenue Northeast
Lake Hills Neighborhood Walk
Wednesday, July 20, 6:30-8 p.m.
Gathering at Evergreen Park
15655 Lake Hills Boulevard
Questions? Please contact Mark Heilman at [email protected].

Source: City News