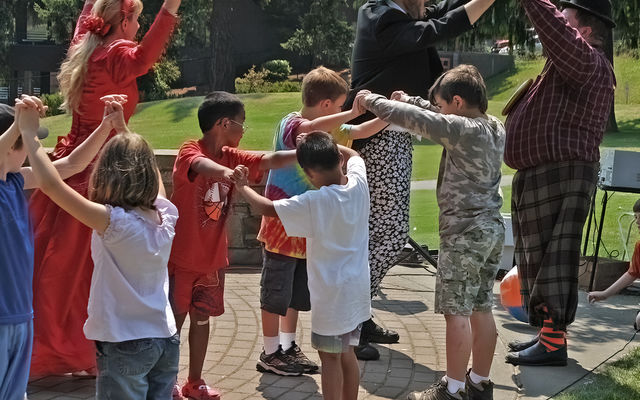 All the world's a stage, according to Shakespeare, but for the first two Wednesdays in August that's especially true of the lawn at the Northwest Arts Center. Last Leaf Productions and the city present free, family-friendly "Theatre on the Green."
At the Northwest Arts Center, 9825 NE 24 St., at 6:30 p.m., guests can see:
Aug. 3: "A Midsummer Night's Dream" by Shakespeare
Aug. 10: "Who Stole the Queen of Hearts' Tarts" by Patricia Haines-Ainsworth
Many theater-goers bring a lawn chair or blanket and enjoy a picnic dinner in the casual setting.

"We're excited to make our park an extension of your living room and to create an intersection of culture and green space," said Parks & Community Services Director Michael Shiosaki.
The city has partnered with Last Leaf Productions on outdoor theater at the Northwest Arts Center and Kelsey Creek Park since 2015, with a break during the pandemic.
"It helps us to collaborate with the city on selecting plays that the community will enjoy," said Haines-Ainsworth, Last Leaf director as well as playwright. "Unlike indoor theater venues, performing outdoors allows actors to interact with the audience directly since they can see one another in the sunlight."
Last Leaf Productions, founded in 1999, brings professional, portable theater productions to communities throughout the state.
Source: City News