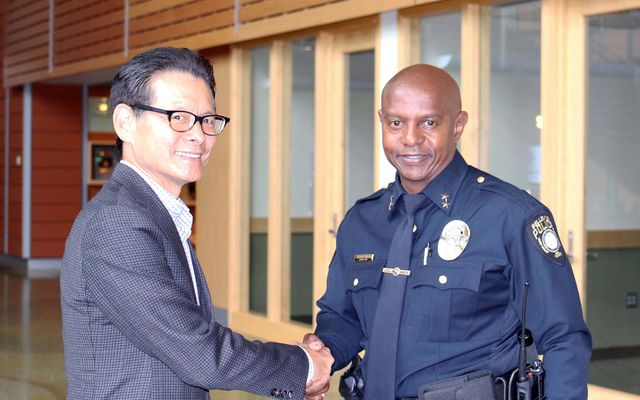 City Manager Brad Miyake has appointed Wendell J. Shirley to lead the Bellevue Police Department, while the city begins the process of looking for a permanent replacement. Shirley, hired as assistant chief in March, has over 25 years of experience in law enforcement. The move comes after Chief Steve Mylett announced he had accepted a new job as police chief for Akron, Ohio.
"I'm pleased to announce that Chief Shirley has agreed to serve as interim chief during this transitional period within the Bellevue Police Department," said City Manager Miyake. "He has my full confidence and I look forward to working with him."
Shirley, a former long-time officer in the Santa Monica, California Police Department, had retired in 2019, but felt called to return to public service after national protests over social justice and police reform last year.
"I am honored and humbled at the opportunity to serve alongside the outstanding men and women of the Bellevue Police Department," said Chief Shirley. "The department will continue to make community safety our highest priority, and we are committed to an inclusive and diverse approach, which better serves everyone in Bellevue. And while policing in America is facing some serious challenges, I am confident we will emerge even better."
Shirley will take over the official duties of police chief beginning in early August. Chief Mylett, who has led Bellevue police department for the past six years, is scheduled to start his Akron role on Aug. 9. The city will begin the process of a nationwide search for a permanent replacement in the coming weeks.
Source: City News