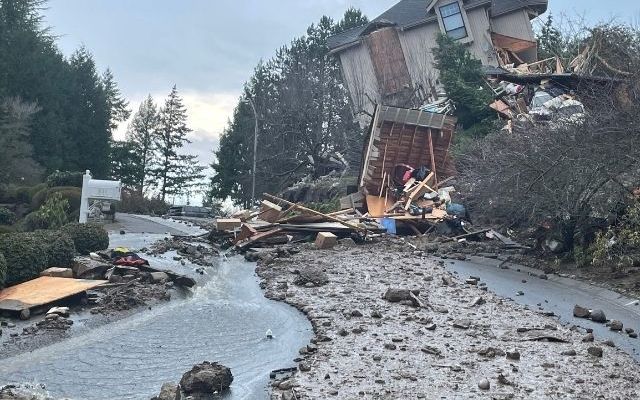 Officials remain in contact with family to salvage property
The city is continuing efforts to secure and demolish a collapsed home impacted by a landslide two weeks ago. Both the city's building official, as well as a private engineering firm, have concluded that the house is unstable and could collapse at any time, posing a significant risk to people and other property. On Friday, the city took legal action to get access to the home.
"We realize the Surdi family is dealing with a terrible situation," said Brad Harwood, Chief Communications Officer for the city. "They have decades of memories and personal belongings invested in the home. Throughout the process, we've made consistent efforts to work with them and will continue to do so. The city does not take this legal action lightly. But unfortunately, the area is dangerous, and we need to move more quickly."
The city has been in close contact with the Surdis and their attorneys. Safely providing an opportunity for the family to salvage any property has been an ongoing discussion. Last week, city staff made a request to enter the property, secure it and demolish the house due to the looming safety hazard. The request was denied.
Seven homes in the area remained "red-tagged," with neighbors unable to return to their homes due to the unsafe structure.
Emergency calls came into Bellevue's 9-1-1 center around 4 a.m. Jan. 17 reporting water flowing down the hill and roadways in the area near 139th Place Southeast and Southeast 51st Place. When first responders arrived on scene, one of the homes had been hit by a landslide and partially collapsed with a homeowner and pet inside. Emergency responders helped residents from that home and 15 other homes nearby to leave the area safely. An investigation in the cause is ongoing and will likely take months.
Additional background information on the January slide can be found at: BellevueWA.gov/somerset-slide Source: City News