Date posted: October 23, 2021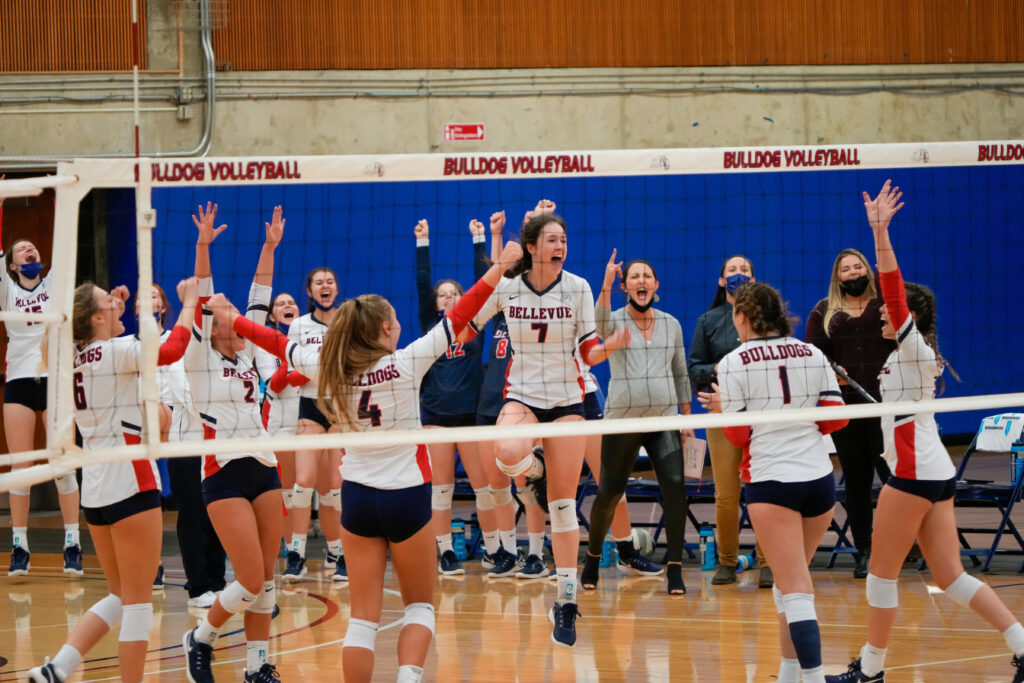 Bellevue College women's volleyball came up clutch in it's biggest match of the year winning in four sets (25-12, 25-13, 27-29, 25-22) over visiting Edmonds last night. The contest was featured as the NWAC match of the week, pitting the top two teams in the North Region. The Bulldogs came out hot, winning sets one and two in dominating fashion with an offense that could not be stopped.Edmonds appeared to have the jitters committing four errors in the opening moments to stake BC with a 9-2 lead which the 'dogs would never surrender.
In set two, Ariana Bilby had six kills along with four by Meg Perry to lead BC to the 25-13 win.
Set three was one that was typically expected in tonight's match in a back-and-forth battle, unlike the blowouts in sets one and two. The 'dogs actually found themselves down much of the set until Bilby nailed one down the line for a 23-22 lead. Bellevue had set point at 25-24 but committed two unusual errors to give Edmonds the lead which the Tritons took advantage of for the win.
In set four, Bilby again provided Bellevue with an early cushion, with a commanding lead of 15-9 in what appeared to be another blowout as seen in the first two sets. Looking like Bellevue would sail to victory with ease, Edmonds rallied to tie it at 20-20. Bilby then took matters into her own hand by drilling home three kills down the stretch to seal the 25-22 win.
Bilby was firing on all cylinders last night and led BC with 21 kills. Perry added 10 while Justine Benson had nine kills. Kate Hansen had 31 digs to lead Bellevue's defense efforts.
Bellevue is now in first place in the North Regon at 7-1 and 17-6 overall, and have now won six in a row.
Last Updated October 23, 2021
Source: Athletics Department