Date posted: November 5, 2021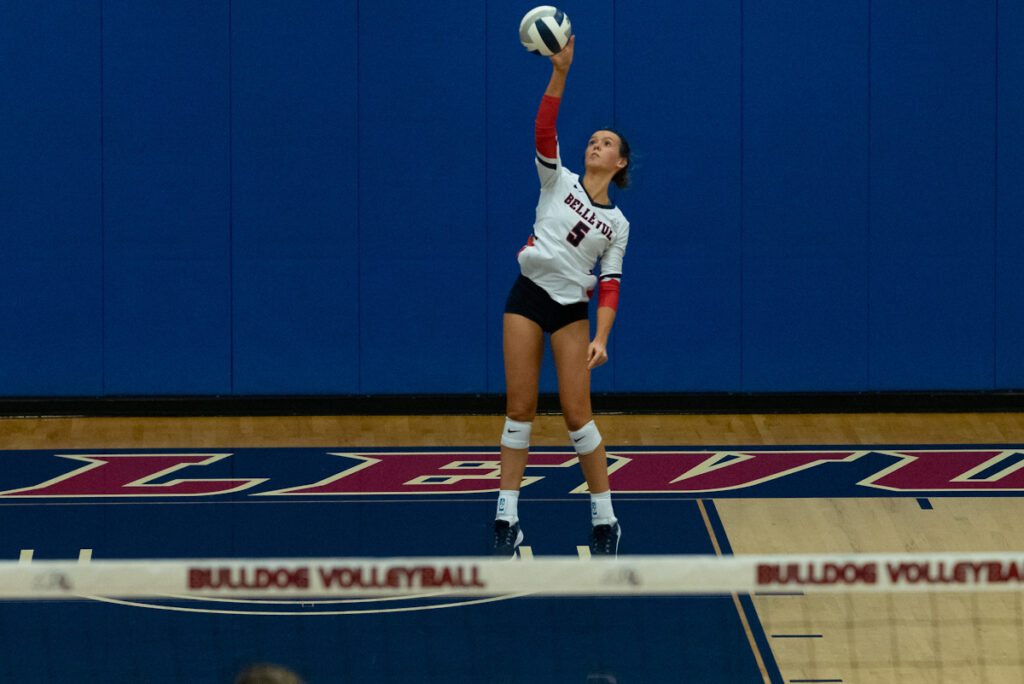 Bellevue College volleyball won their regular season finale tonight 3-1 by scores of 20-25, 25-16, 25-11, 25-16. Bellevue at a minimum, clinches a tie for the North Region title as Edmonds was hosting Whatcom in another key match tonight for bragging rights and playoff seeding. The Bulldogs made things look like the night might take longer than expected as the team dropped set one with sloppy play. BC committed six attach errors in the loss, including the first point of the night.
After the brief surprise set, BC then woke up and took advantage of Everett's turn with miscues as the Trojans went from hitting .312 in set one to .067 in their loss in set two to the 'dogs. The lopsidedness continued in set three as Everett committed another 10 errors hitting. -.192 while Bellevue went on a strong run with a .364 mark. BC had five service aces and were led by Kate Hansen who closed out set three with two aces in the final run of four straight points in the 25-11 win.
The Trojans appeared to give up hope in set four by committing another six errors in the opening minutes to spot Bellevue a 9-2 lead which they would use to cruise to the match win.
Hansen had four aces and 13 digs to pace Bellevue along with Arianna Bilby who had 13 kills while Meg Perry added 11 with a swing mark of .381.
Bellevue now enters NWAC playoffs which will be in a new format this year due to an effort by the NWAC to minimize any disruption due to covid. The top four teams from each region will play against other regions' qualifiers at a host site which will eventually bring the top eight to the official championship tourney held at Pierce College November 13-14. Bellevue closes out it's regular season with a region title and a 10-2 record (20-7 overall).
Last Updated November 5, 2021
Source: Athletics Department