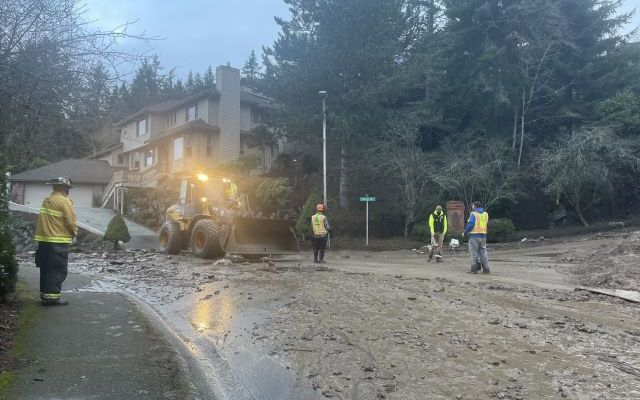 Nearby homes evacuated, all occupants safe
Update for local media at 3 p.m., Jan. 18
City officials will be available for media on scene at 4 p.m. Tuesday, Jan. 18, on 139th Place Southeast in Bellevue's Somerset neighborhood near the restricted area to discuss the city's ongoing response.
Update at 6:25 p.m., Jan. 17
Crews have restored water and power to all homes except seven where officials still consider it unsafe to return to those residences; gas has been restored to all homes.
Road access at Southeast 51st Place and 139th Avenue Southeast is open to homeowners and emergency vehicles. The cul de sac (139th Place Southeast) still has limited access.
Emergency response teams were on site Monday to assess damage from a debris flow that occurred around 4 a.m. in the 5000 block of 139th Place Southeast in the Somerset neighborhood. Fire and police responded to a call about flooding in the area and discovered one home had slid off its foundation and partially collapsed.
Bellevue police officers rescued two people and their dog trapped inside the house. As a precaution, residents were evacuated from 17 houses; fortunately, no one was injured. All displaced residents were taken to the South Bellevue Community Center.

Multiple agencies Monday afternoon were searching for the source of the water flow. Utility crews isolated and shut off a water main. Puget Sound Energy crews checked for a possible gas leak and worked to restore power; city crews worked to restore water service and clean up debris from the road.
State and city geologists, and engineers conducted a damage assessment to determine when it is safe for residents to return to their homes. Response teams have identified seven homes that are either in the path of the collapsed home's remains or cannot be accessed due to unsafe street conditions. Once the damaged house is stabilized, city engineers will re-evaluate the conditions. Other evacuated families are being notified that they will be able to return home once the road has been sufficiently cleared of debris. Staff are working to assist these displaced residents.

The public is advised to avoid the area until further notice.
More information will be posted here and on the city's social media channels as it becomes available.

Source: City News