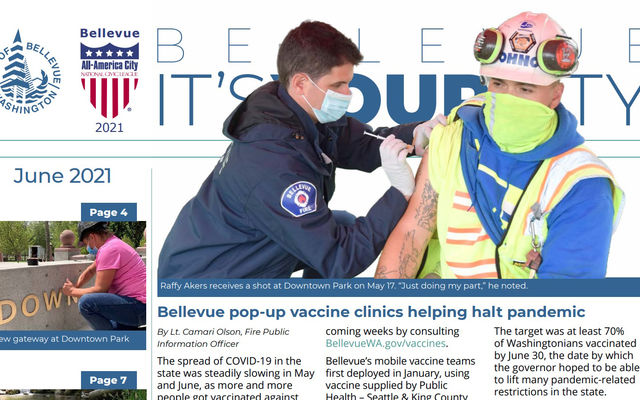 "The spread of COVID-19 in the state was steadily slowing in May and June, as more and more people got vaccinated against the deadly disease. Bellevue firefighter-paramedic mobile teams are helping, delivering hundreds of doses from pop-up clinics at parks and apartment complexes."
The first line in the June It's Your City is a good representation of the entire 12-page issue, which features stories about a recovery now underway from the pandemic. The relaxation of state restrictions today due to vaccinations and the resulting drop in coronavirus infections is anticipated in a front-page article that notes thousands of doses administered in Bellevue by mobile vaccine teams of our own paramedic-firefighters.
Other articles cover:
Optimistic State of the City: In the annual address (livestreamed again) Mayor Robinson and Deputy Mayor Nieuwenhuis recount the effort to help residents and businesses through the pandemic and share the route to recovery.
Northeast Gateway opens at Downtown Park: Bellevue's marquee park finally has an entry on Bellevue Way to match.
Use-of-force review complete: The consultant Office of Independent Review Group submits its report on police use of force in Bellevue, offering 47 recommendations.
East Link reaches milestone: Construction is 95% complete for Sound Transit's East Link light rail line, a project that has changed Bellevue's skyline and will change its travel options even more.
For the Council Corner column, Councilmember Janice Zahn highlights how environmental sustainability will be an essential aspect of Bellevue's recovery, as residents participate in implementation of the environmental stewardship plan the council adopted in December.
It's Your City is a resident newsletter about Bellevue packed with "timely and illuminating information" per reader Annalee Luhman. It comes out three times a year and is mailed to all resident and business addresses in the city.
Source: City News