Date posted: August 28, 2022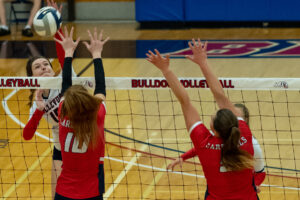 Bellevue College volleyball, coming off a fifth place finish at the 2021 NWAC Championships, wasted no time facing top tier competition as the Bulldogs hosted defending champ Linn-Benton, North Idaho, Spokane, and Clark this weekend. Bellevue finished 2-2 in their four matches on Friday and Saturday at Courter Family Athletic Pavilion.
In Friday's season opener, BC faced off against a familiar foe, Spokane; a team that beat Bellevue in the playoffs last year on the very same court. The 'dogs got their revenge with a 3-1 win (25-20, 25-14, 23-25, 25-18). Bellevue came out swinging hot in set one hitting at a .419 clip. Marin Mackey led the way for Bellevue with 11 kills and 14 digs and 2 blocks. Kate Hansen had 18 digs while freshman setter Taylor Pederson had 21 assists.
In match two, Bellevue hosted North Idaho in the 7:00 p.m. game and fell 3-1 (2-25, 19-25, 19-25, 17-25). The hot hitting in the opener went cold as BC hit at a .085 average over the four sets, committing 24 errors. Meg Perry was the lone Bulldog to find holes in North Idaho's defensive front with 14 kills and only 4 errors.
In Saturday's first match, BC hosted Oregon powerhouse Linn-Benton and were shutout by scores of 28-26, 25-14, 25-20. Bellevue's hitting efficiency struggled again, with percentages of .079, .192, and .043 in the three sets respectively. Tommi Gallucci had 15 digs while Hanson had 16. Pederson had 16 assists and also had two service aces.
In the weekend finale, the defensive front came up big for Bellevue in a convincing 3-1 win over Clark (25-15, 27-29, 25-18, 25-16). While BC came out swinging hard in set one, executing 13 kills and only 2 errors, the 'dogs were strong up front with 19 block assists led by Peytin Thompson, AJ Gueller, and Makenna Mosher with 5 each. Pederson and Lauren Wittmers each had 21 assists.
The Bulldogs will get two days off before a tour of the East Region, with a match in Yakima on Tuesday August 30 at 1PM then a 7PM tilt at Blue Mountain in Pendleton, OR that night. The 'dogs will then venture to Walla Walla for a Wednesday September 1 match then close out the trip on the way home with a Thursday match in Wenatchee Valley.
Last Updated August 28, 2022
Source: Athletics Department