Date posted: March 14, 2022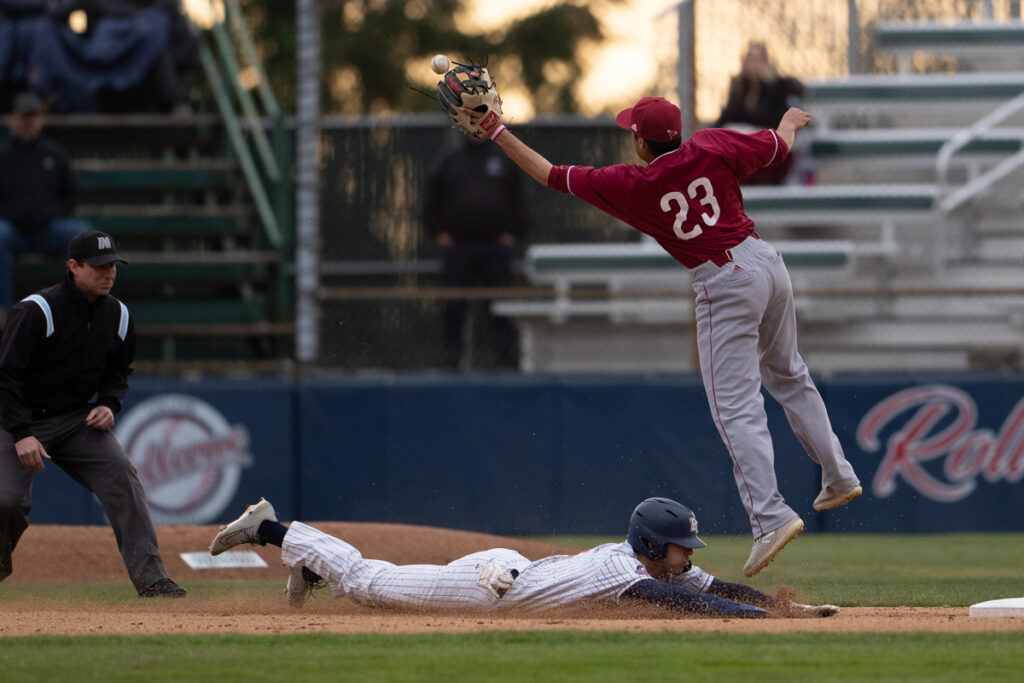 Bellevue College baseball split a four-game series with Pierce this weekend, winning the opener on both Friday and Sunday before dropping games two and four on both days. On Friday, Bellevue won 9-8 and lost 1-0. In the opening win, Bellevue's bats broke open with four runs in the fifth and were led by RBI singles by Nate Cain and Remy Heckman. Up 9-6, Bellevue held off a late game rally by Pierce as Nate Rasmussen earned the win going five innings on the mound. Bellevue rallied back after falling behind 4-0 early in the game. Cain ended up 3-for-4 with 4 RBI's. In game two, Dylan O'Connor's third straight dominating appearance on the mound was spoiled by two consecutive Pierce hits resulting in a 1-0 loss. O'Connor allowed only those two hits while walking zero and striking out 16 batters in seven innings of work. Cain had another three hits while Eunsang Yu had two as they were the only two Bulldogs to garner hits in the shutout loss.
On Sunday, Bellevue's bats came alive in a 16-8 win with the 'dogs grinding out a season-high 22 hits in the game. Abe Affholter had five hits while Troy Baunsgard had four. Cain and Heckman continued their offense from Friday with three RBI's apiece. In game two, Pierce struck early plating seven runs in the first to stake an early 7-0 lead. Bellevue would tie Pierce 1-1 for the remaining eight innings but paid the price for the disaster first frame that was opened up by two errors, a walk, and three hit batters. Yu had two hits as the Bellevue bats, after being hot in game one, went cold in game two; a mirror image of Friday's results.
In his first series in two weeks after nursing a hand injury, Cain led BC over the weekend with 10 hits.
The Bulldogs are now 7-9 overall and host Lane this weekend. Rain in the forecast on Saturday may possibly force relocation to an artificial turf field. Updates will be made on the schedule page as they are received.
Last Updated March 14, 2022
Source: Athletics Department