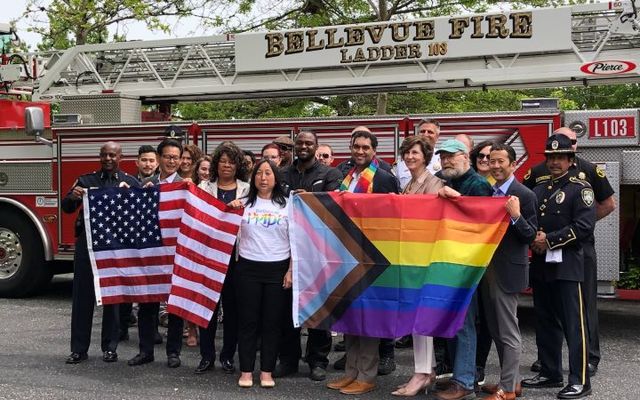 City sponsors flag raising and banner displays through June
On Wednesday, June 1, City of Bellevue staff held a flag raising ceremony at Fire Station 3, also live streamed on the city's YouTube channel and recorded for on-demand viewing. The ceremony celebrated Pride Month in June and introduced a new Progress flag to recognize the breadth and diversity of lesbian, gay, bisexual, transgender, queer/questioning and non-binary (LGBTQ+) community members, friends, family and supporters. In addition to six rainbow-colored stripes, Progress flags include black and brown stripes to represent communities of color and a blue, pink and white chevron to represent the transgender community.
The flag raising began with brief remarks by Mayor Lynne Robinson and City Manager Brad Miyake emphasizing the city's commitment to diversity and inclusion as it strives to effectively serve all residents in the community. The ceremony also featured remarks from community member and Bellevue College Associate Director at the RISE Learning Institute, Sapan Parekh.
The Progress flag will fly at City Hall and several other city facilities June 1-30, with the exception of June 17-20, when the city will fly Juneteenth flags.
"Recognizing Pride Month and raising the flag has become an important annual tradition for Bellevue to join together with our LGBTQ+ community and celebrate inclusion and diversity in our city," said Miyake. "Beyond this visible show of support, we strive every day in our city operations to embody the values of welcoming and inclusion that are core principles in our mission."
In partnership with the Bellevue Downtown Association, the city is also sponsoring Pride banners that will hang along downtown Bellevue's Grand Connection during the month.
At the Bellevue City Council meeting on June 6, councilmembers will proclaim June as LGBTQ+ Pride Month and voice their support for this community. The proclamation recognizes the meaningful contributions of LGBTQ+ community members to Bellevue's rich and diverse history and culture.
More information and resources for members of the LGBTQ+ community are available through community support organizations Eastside Pride PNW, PFLAG Bellevue, Lambert House and Youth Eastside Services.

Source: City News