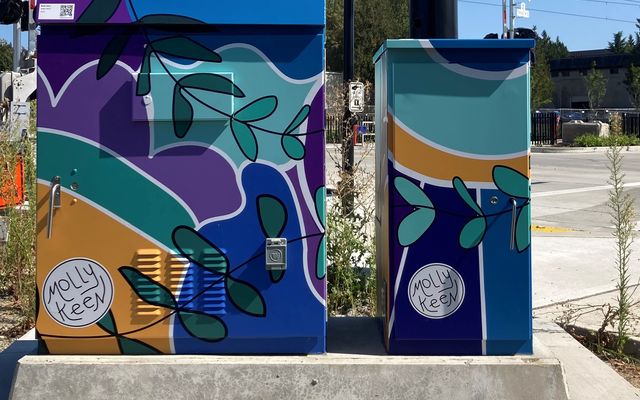 City arts and culture program involves local artists in beautifying Bellevue's first-ever burgeoning arts district
Utility and signal boxes in Bellevue's BelRed neighborhood are getting an artistic face lift this month thanks to the City's Arts and Culture and Urban Boulevards programs that both strive to transform the use of our street corridors not only as transportation infrastructure but as vibrant community spaces. BelRed is the city's first and currently only arts district, driven by a concerted effort to encourage and support arts and culture businesses to locate there.
Six local visual artists were selected to design artworks that could be digitally reproduced in a format able to be placed on utility boxes. The artists ranged from classically trained painters, authors, and graphic designers. All hail from the Eastside.
The artistic treatments are being installed throughout August and September. A full list of the artists along with photos of their work on the utility boxes once installed, as well as downloadable companion coloring pages from one of the artists, are posted to the city's Public Art web page under Utility Box Wraps. BelRed is the first phase of a utility box wrap project that will bring vibrant art wraps to neighborhoods around Bellevue in the coming years. More information will be added to the Public Art page as the program and its funding advances.
Any program questions can be directed to Manette Stamm on the city's arts team at 425-452-4064 or [email protected].

Source: City News