Date posted: March 3, 2022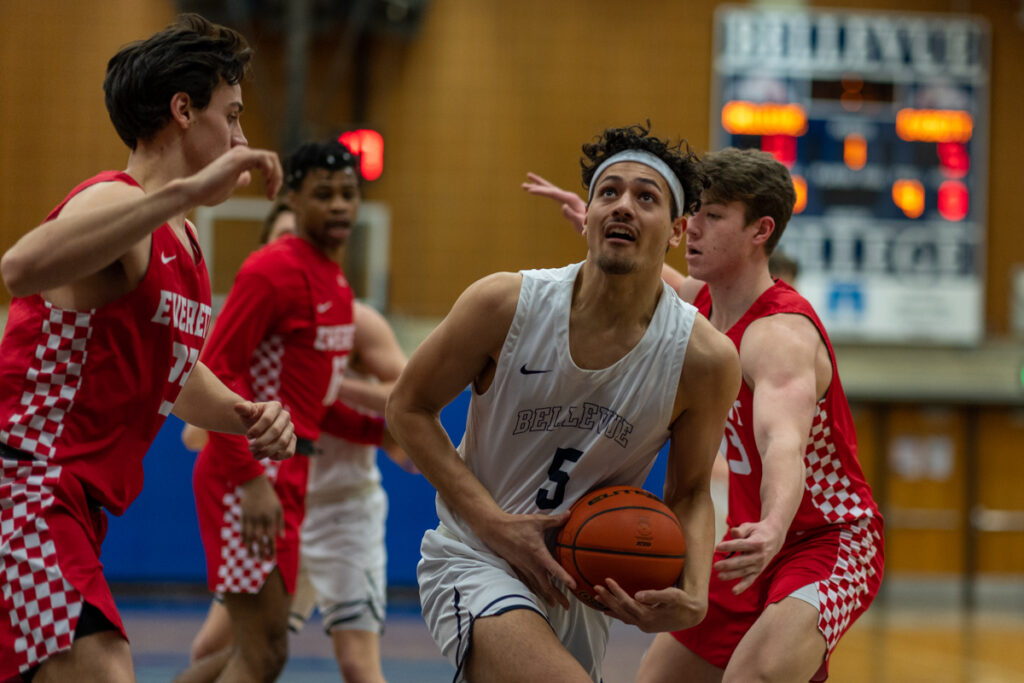 In a must-win situation against the first place Olympic Rangers, Bellevue College men's basketball scored a huge victory 76-73 last night at Courter Family Athletic Pavilion.
In control for much of the game with sizeable leads of 10 points or more through the entire first half and part of the second, the Rangers tied the game and got their first lead with 7:20 to go in the game at 57-56. Ben Olesen came up big for Bellevue by nailing all three of his free throw attempts after being fouled to put BC back up 59-57, and the Rangers' lead was gone in a flash.
Olympic fought back and re-took the lead 73-72 with :40 to go on a three-pointer by Aundree Polk before BC would pull off a heroic win. Maui Sze matched Polk's three-ball to put Bellevue within one at 73-72. Polk would then be fouled by Sze with only 10 seconds left. This time Polk could not deliver, missing the front end before Bishop Tosi snatched the rebound and was fouled with :08 remaining. Tosi delivered with both free throws putting Bellevue up 74-73. A last second attempt to win it by Polk was stymied by the defense of Nate Johnson as the 'dogs went on to win one of the most epic nail-biters of the season.
Aydan Janssan led Bellevue with 17 points and nine rebounds. The Bulldogs are now in a three-way tie for second place at 7-5 (17-7 overall). Two others, Skagit Valley and Olympic are tied for first at 9-3, leaving all five teams battling for only four spots in the playoffs with two games remaining. Bellevue travels to Peninsula this Saturday for a key 6:00 p.m. game. Peninsula is also tied with Bellevue for second.
Last Updated March 3, 2022
Source: Athletics Department