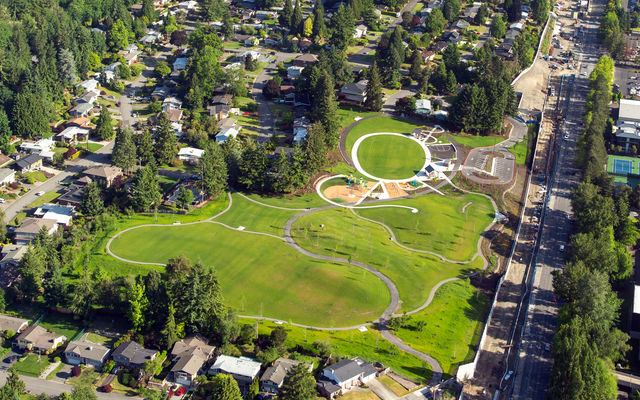 Plus, Vision Zero and Neighborhood Enhancement Program updates
On Monday, after recognizing Earth Day and Arbor Day with a City Council proclamation, the council reviewed several options related to funding the city's long-range parks plan. Among the council's 2021-2023 Council Vision and Priorities is ensuring Bellevue maintains a high-quality built and natural environment, retaining its reputation as a "city in a park." To achieve this, the council recently discussed advancing a parks funding strategy, including consideration of new funding sources for operations, maintenance and capital.
The city's 20-year Parks and Open Space System Plan (POSSP) is the primary tool for shaping the future of Bellevue's parks through identified capital project needs over the next 20 years, based on parks and recreation priorities collected from the community. The feedback revealed people want to see Bellevue prioritize trails in natural areas, open space, public beach and waterfront access, and several other indoor and outdoor recreational opportunities. The current 20-year list of projects in the POSSP would require between $500 million and $1 billion in funding to complete. Current parks funding sources, including a 2008 Parks and Natural Areas Levy, a King County levy expiring in 2025, Real Estate Excise Taxes, development park-in-lieu fees and grants, would only cover about 34% of the POSSP project list.
All four councilmembers present (three councilmembers had excused absences) expressed agreement that city staff should further research elements of this funding strategy including investigating a voter-approved ballot measure to support capital needs for parks, initiating a park impact fee study for consideration as another funding mechanism and determining the role of the Parks and Community Services Board in the process to help confirm the community's priorities and preferences for long-term parks improvements.
The full discussion is available on Bellevue Television replay and more details are in the meeting materials.
Vision Zero update
Also on Monday, the council heard an update on Bellevue's Vision Zero work. First adopted in 2015, Vision Zero is an effort to eliminate traffic deaths and serious injuries on city streets by 2030. In 2020, the council approved a "safe systems" approach and strategies for Vision Zero that focus on safe people, safe streets, safe speeds and safe vehicles, with supporting elements of leadership, culture, partnerships and data.
In 2021 and 2022, the city created annual action plans to guide the work and formed teams from nine city departments to oversee implementation. A sample of accomplishments from 2021 include:
Constructed 9.85 miles of new pedestrian and bicycle facilities (safe streets).
Implemented a 20 mph speed limit as part of the East Bellevue Demonstration Greenway pilot (safe speeds).
Worked with Microsoft, Advanced Mobility Analytics Group and Jacobs on a pilot project to evaluate the effectiveness of leading pedestrian intervals to make crosswalks safer at signalized intersections (partnerships).
Last year's road safety work was recognized with awards from three different organizations: Federal Highway Administration, Institute of Transportation Engineers Safety Council and the National Operations Center for Excellence.
The 2022 action plan builds on the success of the 2021 plan. More information on Vision Zero is available with the council meeting materials.
Neighborhood Enhancement Program update
In other business, councilmembers received an update on the city's Neighborhood Enhancement Program (NEP). NEP is a council-directed, resident driven capital investment program that designated $5 million from the 2015-2021 General Capital Investment Program budget for capital improvement projects recommended by community members from the city's 14 neighborhood areas.
Since 2015, community members have submitted more than 1300 NEP project ideas resulting in the completion of 38 small capital projects to enhance neighborhood character or livability and benefit the general public. The program also enjoyed support from the local business community, allowing more projects beyond the program budget to be completed or expanded.
The program will end its current seven-year cycle this year with projects in the Newport and Somerset neighborhoods. More details on the program update are in the meeting materials.

Source: City News