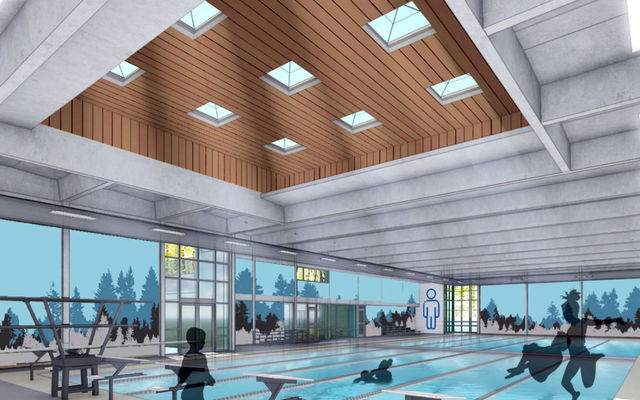 Plus, continued East Main land use code discussion and Environmental Stewardship report
On Monday, the City Council voted unanimously to affirm Airfield Park as the preferred site for a regional aquatic center in Bellevue. The council also voted to work with partners to secure funding for the project and begin community engagement.
The work approved by the council includes drafting a Memorandum of Understanding with aquatic advocacy nonprofit SPLASHForward to begin fundraising feasibility efforts to support development of the preferred concept plan the city and the group developed. The work will also include environmental review and community engagement as the plan is solidified for a facility serving a full range of fitness, recreation, health and wellness needs, as well as competitive aquatics programs for all ages, ranges of abilities and backgrounds.
Bellevue will work with key stakeholders to explore broad-based funding sources to finance the project and develop public and private partnerships to operate the facility. Airfield Park and Bellevue College were the final two potential sites remaining for consideration from an initial list of four sites for the aquatics center in Bellevue. The Airfield Park site required less investment in site-required facilities. In addition, it has easy freeway access, is a city-owned parcel of land, and has existing parking agreements with adjacent properties.
The full discussion is available on Bellevue Television replay and further detail on the work is available in the meeting materials.
East Main land use code amendment discussion
Also this week, councilmembers held a sixth study session concerning a proposed land use code amendment (LUCA) that would establish development standards, requirements and guidelines for future development in the area around the East Main light rail station southeast of downtown.
Councilmembers voted to direct staff on several items for inclusion in the LUCA. The first decision is to set a base density, often referred to as floor area ratio or FAR, to achieve robust delivery of public benefits. Second, councilmembers decided that affordable housing, open space, child care, potential streets, performing arts space and pedestrian bridges are the public benefits that must be prioritized. Third, the council directed staff to allow the use of development agreements to provide flexibility from meeting the East Main land use code in exchange for additional affordable housing and public benefits.
The council is scheduled to continue discussions of the East Main land use code amendment in November, and is currently anticipating its adoption by year's end. The full discussion is available on BTV video replay.
Environmental Stewardship program report
In other business, councilmembers received a quarterly progress report on the city's Environmental Stewardship Initiative. The report highlighted that in just the first year of the initiative's current five-year work plan, progress has begun on more than 60% of the 77 actions in the plan.
The actions are intended to help achieve the city's environmental goals for reducing greenhouse gas emissions, energy use and vehicle miles traveled per person, as well as increasing recycling, tree canopy, access to parks, renewable energy and electric vehicle use.
A sampling of the key activities of the plan in the last quarter includes:
Utilities Department support to businesses as they work to comply with the state plastic bag ban in effect since Oct. 1
Establishment of an online dashboard/tracking tool for ESI Plan progress
Watershed Management Plan outreach and toolbox of strategies
Welcoming Week Tree Talk event fostering cross-cultural communication around trees and the environment
Giveaway of over 700 trees to Bellevue residents, organizations and businesses
Key activities coming in the next quarter include:
Technical support to help commercial buildings gain energy efficiency
Biennial Environmental Stewardship town hall in January
Developing the Environmental Stewardship 2022 work plan
The full presentation is available on video replay and in the meeting materials.
Source: City News