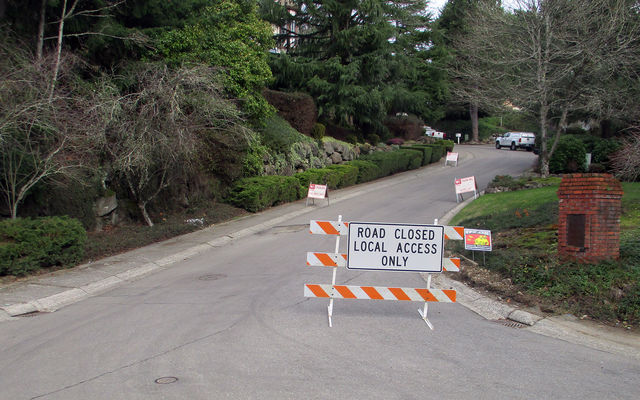 Following an agreement between the City of Bellevue and a Somerset family whose home was irreparably damaged by a mudslide Jan. 17, the city has finalized a contract with a demolition contractor to remove the dangerous structure and salvage items where possible. The first steps in preparation for the demolition will begin today (Thursday).
The demolition of the home will remove an imminently dangerous hazard from the neighborhood and will allow nearby families to return to their homes that have been inaccessible since the slide due to the safety hazard. Initial work began Thursday morning, with demolition of the home expected to start Feb. 19. The entire demolition process, including prep, structure removal and debris removal, is expected to take several weeks.
"Our number one priority throughout this process is to keep people safe and to remove the dangerous structure as soon, and as safely, as possible," said City Manager Brad Miyake. "We're grateful to the Surdi family (owners of the damaged home) for allowing the demolition process to begin. I also want to reassure the community that the city is deeply committed to helping the Somerset neighborhood recover from this unimaginable event."
Planned timeline of the process:
Feb. 10 – Preparation of the site begins
Feb. 14-18 – Roadway cleanup, site protection and equipment mobilization
Feb. 19-25 – Likely demolition dates and processing of debris
Feb. 28-March 3 – Site stabilization, cleanup and demobilization
During demolition, the site will be secured and monitored for the safety of the public. Per the construction contract and the agreement with the homeowner, the contractor completing the work will remove and retain any vehicles on the site and seek opportunities to safely remove any salvageable items from the home, taking them to a safe location for the family to assess and collect. In addition, the Surdis will be able to observe the demolition activities from a safe location nearby during the work.
Meanwhile, the city continues to engage daily with all impacted residents from the neighborhood and offer resources. Details for safe media access opportunities will be released next week.
The investigation into the cause of the slide is ongoing and, due to the complexity of the incident, will take months to complete.
More information on the city's response can be found at Somerset Landslide.
Source: City News