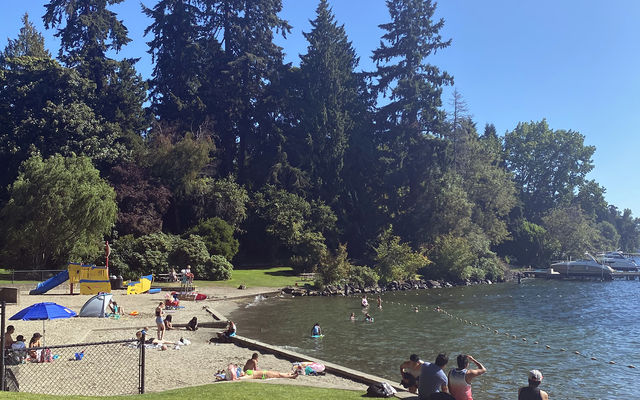 The National Weather Service in Seattle has issued an excessive heat watch for western Washington from noon Saturday to 11 p.m. Monday, with temperatures forecast in the upper 80s on Saturday and low 90s Sunday and Monday.
High temperatures can cause health problems, especially for the very young, very old and people with certain medical conditions. Here are tips for staying healthy.
Anyone who will be outside for extended periods should drink plenty of water, seek shade whenever possible, use sunscreen with a high SPF, and be alert to signs of heat exhaustion or heat stroke.

Fortunately, the region's air quality is expected to remain good during the heat wave.
If you're inside without air conditioning, you also may want to seek an alternative, such as a mall, movie theater, restaurant or library.
Water Options and safety
For those who want to swim, lifeguards are on duty at Chism Beach and Newcastle Beach parks, noon to 7 p.m.
Meydenbauer Bay Park beach is closed due to high bacteria levels in Lake Washington, and Enatai Beach park is unguarded due to ongoing construction.
The water features at the Crossroads water spray playground and Downtown Park's Inspiration Playground offer some cooling, particularly for kids, 10 a.m.-8 p.m. daily.
If you choose to swim in unmonitored river or lake locations, the water may still be quite cold, so use caution and wear a personal flotation device.
Here are some tips from The Bellevue Fire Department offers some tips for keeping cool in the heat.
Source: City News