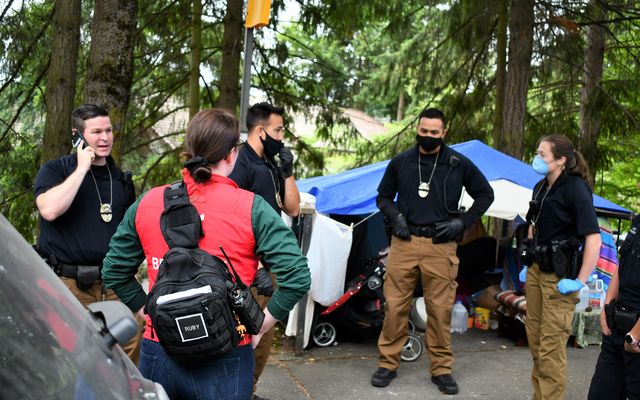 Non-uniformed police, mental health pros help people in crisis
The city will consider a new approach to responding to individuals in crisis after a pilot program featuring teams of specially trained police officers and mental health professionals yielded promising results last year.
The Bellevue police and fire departments seek public input on a Community Crisis Assistance Team program as they prepare to ask the City Council to fund it. Please visit Engaging Bellevue for more information and to provide feedback.
The CCAT pilot program ran from May to August 2021, testing three models for responding to people in crisis:
a non-uniformed officer and a mental health professional
two non-uniformed officers
two mental health professionals requested by uniformed officers
"We continue to see an increasing number of 911 calls involving individuals in crisis, and recognize the need to imagine new ways to respond to these calls to ensure the best outcome for the individual, their family and the community," said Police Chief Wendell Shirley. "Community Crisis Assistance Teams were given the time to work with individuals to find appropriate resources and were able to follow up to ensure they received care."
Traditionally, uniformed officers answer calls involving individuals in crisis.
The mental health professionals came from Bellevue Fire CARES, a Fire Department program in which outreach staff help connect residents with needed community resources. Police officers assigned to CCAT received extensive training in mental health first aid, crisis intervention, trauma-informed care and other forms of crisis response. CCAT members discuss the program in a video.
An independent evaluator conducted an academic analysis of the pilot, evaluating statistical data and interviews with people CCAT served and community service providers.
"The CCAT evaluation showed not only a reduction in arrests, use of force and unnecessary emergency room visits, but also an extremely high level of satisfaction from those served by CCAT," Chief Shirley stated. "CCAT was highly effective."
Once the police receive and consider the public feedback, they will present the program to the council for full funding.
Source: City News