My non-profit organization – The Rose International Fund for Children or 'TRIFC' has been partnering with the Dhulikhel Rotaract Club in Dhulikhel, Nepal to support 20 students with blindness at the Sanjiwani School since 2012. TRIFC provides the program funding from our donors and the Rotaractors manage the implementation. This arrangement has multiple benefits, not the least of which is engaging the local Nepali population with their community with disabilities. I was there in 2012 when we did our first project together, decorating 'treasure boxes' with plastic 'jewels' so the kids could have a special box to keep their personal treasures. It was the first time the Rotaractors experienced volunteering with children with blindness. It was a revelation for them and they quickly became engaged and emotionally invested in these kids. Over the years their enthusiasm resulted in awareness of these students within the Dhulikhel community at large, shining a light on these previously invisible kids. This resulted in more support for the students and more awareness about the urgent need for improvements in their educational and dormitory/living situation.
Over the years these dedicated Rotarators have implemented many projects in partnership with TRIFC and other Rotary Clubs. A solar water heater for showers, new beds, bedding, kitchen equipment, nutritional food support, security enhancements and much more! TRIFC has recently approved a $5,000 grant which will be used by the Rotaractors to provide medical and mental health assessments, a new security camera, clothing, personal development training, hygiene and personal care items, a washing machine, room painting, flooring materials and furniture repairs.
When I visited last Saturday, the students were preparing for their final exams but we managed to bring them out of their dormitory for a special outing and tasty dinner at a local hotel. There are quite a number of new students at the school but I was able to renew some old friendships with those who had known me from previous trips.
Thank you, Dhulikhel Rotaract Club for your years of dedicated service to the students with blindness at Sanjiwani School.
Reporting from Nepal – Rob Rose
P.S. Seema says 'Hi" to all of her Bellevue Rotary Friends!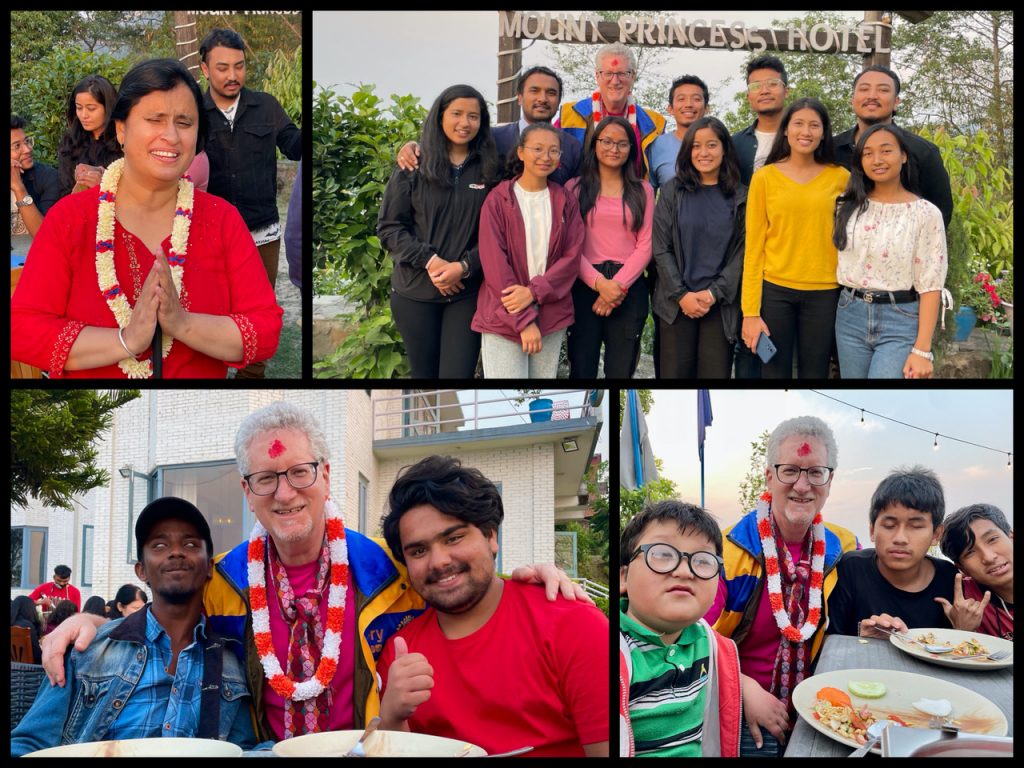 Source: Bellevue Rotary Club