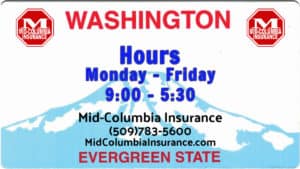 Mid-Columbia Insurance is open Monday through Friday from 9:00 am to 5:30 pm and on Saturdays by appointment.
Mid-Columbia also closes for the following holidays:
New Years Day,
Memorial Day,
4th of July,
Labor Day,
Thanksgiving Day,
Day after Thanksgiving, and
Christmas Day.
When a holiday falls on Saturday, we will take Friday off. When it falls on Sunday we will take Monday off.
Article Source: Mid-Columbia Insurance Agency