Date posted: November 14, 2021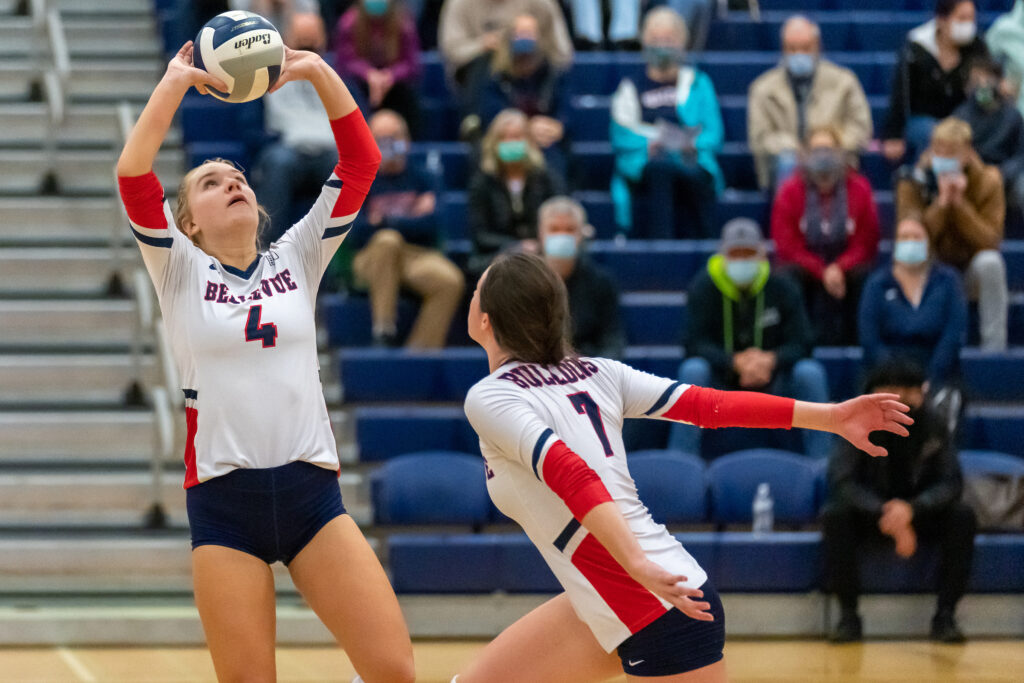 Bellevue College volleyball endured one of the all-time longest sets in program history en route to a 3-2 win over Rogue in a loser-out, winner to NWAC Championship match. Bellevue won 27-29, 25-19. 25-22, 37-35, 15-7 in the marathon five-setter that will go down as one of BC's all-time thrilling wins.
Set one was close all the way through with the largest lead being only three points when Rogue was up 23-20. The 'dogs then put up three straight points to gain momentum before Rogue pulled away with service ace and kill by Devin Ireland.
Bellevue dominated set two as they jumped out 14-5, fueled by five errors by Rogue early on. Their sloppy play continued with another five errors as the ten total in set two allowed Bellevue to roll to victory 25-19.
Bellevue and Rogue then continued their competitive battle from set one in a 25-22 win for BC as Arianna Bilby had four kills to lead Bellevue. Bilby led BC's late charge as they went from a 22-20 deficit to reeling off five straight for the win.
The slugfest was set four as BC had a chance to close it out on regular terms up 24-21. At set and match point, Rogue answered with three big swings to tie it up before the match that would not end continued. Nerves were evident as attack errors on both sides extended the match to 36-35 before Amanda Klotz delivered for Rogue.
Tied at 2-2, Rogue's fatigue appeared to set in. After a long five set match earlier in the day vs. Spokane, and the long set four that just ended, Rogue committed five errors early on spotting BC a 10-4 lead in the shortened set. Bilby slammed one home for the win on a perfect set from Justine Benson for the 15-7 win.
Bellevue, along with Spokane, qualify for the final eight next week at the NWAC Championships which will be hosted by Pierce College. More info can be found here.
Last Updated November 14, 2021
Source: Athletics Department