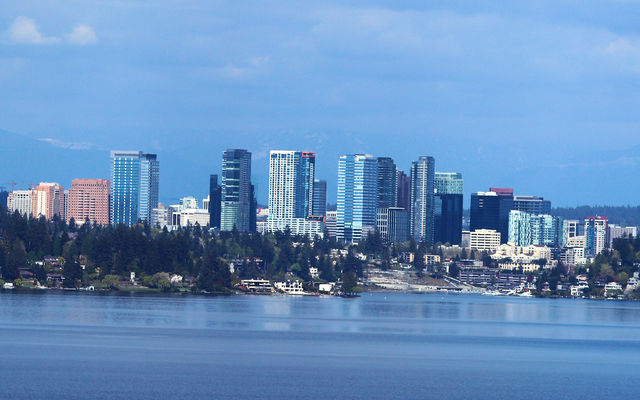 Clean Buildings early adopters can draw from $75M state fund
Owners of large buildings in Bellevue can now make them more energy-efficient with help from the City of Bellevue and HVAC specialist MacDonald-Miller Facility Solutions. Together, they have created a program for eligible building owners to receive substantial incentive payments from a state fund to make needed retrofits.
Bellevue's program is the first city-led effort to assist building owners who must comply with the state's new Commercial Clean Buildings Performance Standard, which requires that most buildings larger than 50,000 square feet meet energy efficiency standards by 2026.
"Like many cities in our region, we are working hard to become a stellar environmental steward," Mayor Lynne Robinson said. "Having an energy-efficient building is not only good for the environment, it will also save building owners and managers energy costs." Of the 400 buildings in Bellevue that will need to comply, total energy savings are anticipated to be nearly $2 million per year.
Washington's Early Adopter Incentive program offers $75 million in incentives to eligible building owners to assess their energy use and create and implement plans to reduce energy consumption, to encourage early compliance with the state law.
"We want to support energy efficiency in larger buildings because they generate about one-quarter of our greenhouse emissions in Bellevue," said Jennifer Ewing, Bellevue's environmental stewardship program manager. "This initiative supports our goals in the Sustainable Bellevue plan to reduce greenhouse gas emissions and be an innovative business center in the Northwest."
As part of the city's Clean Buildings Incentive Program, Bellevue has partnered with MacDonald-Miller to help building owners learn about the program, apply for state money, reduce energy use, save money and comply with the new clean buildings standards.
"Carbon emissions from energy consumption by buildings are increasing at a rate five times greater than overall emissions in Washington state," said Perry England, vice president of building performance for MacDonald-Miller. "MacDonald-Miller is excited to be the city's selected consultant, and we are ready to make Bellevue the most compliant city in the state."
Ewing said about 573 private and public buildings in Bellevue are eligible for the program. Of those, 400 are required to comply with the new state energy standards, starting in 2026. The rest – mainly multifamily buildings – are not required under the law, but still have the option of participating in the early adopter incentive program.
Building owners and property managers can attend a webinar on Wednesday, Jan. 12, to learn more, and should register for the city Clean Buildings Incentive Program by March 31 to begin the benchmarking process with MacDonald-Miller. Or contact D'Wayne Kendrick at [email protected] with questions.
The state funds will be appropriated as eligible companies apply.
MacDonald-Miller Facility Solutions specializes in heating, ventilation and air conditioning (HVAC) systems. For more than 50 years, MacDonald-Miller has shaped the local landscape with buildings that operate in the most safe and efficient manner possible. As industry leaders, the company tackles the complexities of all industries – from health care and biotech/labs to industrial, commercial office buildings and high-rise residential projects.
Source: City News