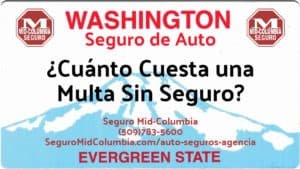 Mid-Columbia Insurance desea ayudarlo a obtener un seguro de carro económico en Washington para que pueda obtener la cobertura que desea a un precio asequible. Estamos familiarizados con las leyes de seguros de autos de Washington, por lo que puede estar seguro de que cumple con los requisitos legales.
Los 50 estados requieren prueba de responsabilidad financiera (también conocido como seguro) y la multa por conducir sin seguro es grave en todos los estados. Aunque Washington no tiene las sanciones más severas por conducir sin seguro (Oregon suspenderá su licencia de conducir por 3 años), las multas y otras consecuencias pueden ser bastante severas.
Ya sea que su vehículo esté registrado en Washington o en otro estado, debe llevar consigo y poder mostrar un comprobante de seguro si así lo solicita la policía. Asegúrese de incluir las primas de su seguro en su presupuesto para mantener la cobertura. Si está conduciendo, el seguro del automóvil no es menos importante que sus otras facturas. Una multa sin seguro casi siempre le costará más que solo pagar el seguro y un accidente sin seguro podría ser devastador.
Multa judicial por no tener seguro en Washington
Si conduce un automóvil sin seguro en las carreteras del estado de Washington, podría recibir una multa de $ 550 o más.
Accidente sin seguro en Washington
More seriously, if you are at fault in a traffic accident and have no insurance, you can be held responsible for the resulting damages and the medical costs of the other party. Also, your license will probably be suspended for 3 years from the date of the accident.
Seguro Mid-Columbia : su corredor de seguros de confianza
Llame a nuestros expertos en seguros para vehículos recreativos hoy al (509)783-5600
o haga clic en "Obtener una cotización" para solicitar una cotización para su vehículo recreativo. En Seguro Mid-Columbia, nuestro objetivo es brindarle la cobertura que desea a un precio asequible.
English: ¿Cuánto Cuesta una Multa Sin Seguro en el Estado de Washington?
Article Source: Seguro Mid-Columbia