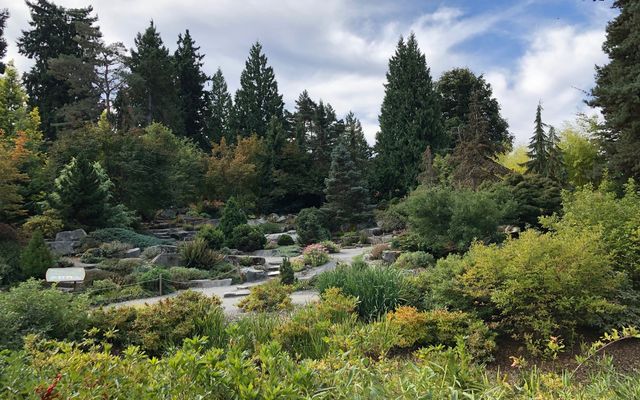 'Belonging in the Garden: flowers, gardens, traditions and the connections they create'
Cultural Conversations begins a new season of storytelling and connection with the theme "Belonging Begins with Us" for National Welcoming Week, Sept. 9-19 at the Bellevue Botanical Garden, 12001 Main Street, Bellevue, Wash.
Join us on Friday Sept. 17, 1-2:30 p.m. for "Belonging in the Garden," featuring members of Ikenobo Lake Washington Chapter of the Ikenobo Ikebana Society. Ikenobo Ikebana is the original (500+ year old) school of Japanese flower arranging.
Participants will learn more about this discipline, which is an expression of the interrelationship of the beauty of flowers, the harmony of nature, the environment, and the artist's heartfelt expression of beauty and belonging. The program will also include stories of women from diverse cultural backgrounds who have been drawn to this art form and teach and learn side-by-side in community.
Following the presentation, attendees will reconnect in the Gathering Place, an outdoor covered area in the garden. There they can share their own garden stories on story boards or take a walk with friends to check out Bellevue Botanical Garden art installations as part of the Bellwether art festival.
The event presentation will be held at the Gathering Place at Bellevue Botanical Garden. Seating is limited. City staff will be closely following King County Guidelines for safety during the COVID-19 pandemic; masks will be available.
Cultural Conversations is a program entering its twelfth season and has transformed relationships and perspectives among diverse women in our community through education and storytelling.
For more information or accommodation needs, please contact [email protected] or 452-452-6836.
For alternate formats, interpreters, or reasonable accommodation requests please phone at least 48 hours in advance 425-452-6917 (voice) or email [email protected]. For complaints regarding accommodations, contact City of Bellevue ADA/Title VI Administrator at 425-452-6168 (voice). If you are deaf or hard of hearing dial 711. All meetings are wheelchair accessible.

Source: City News