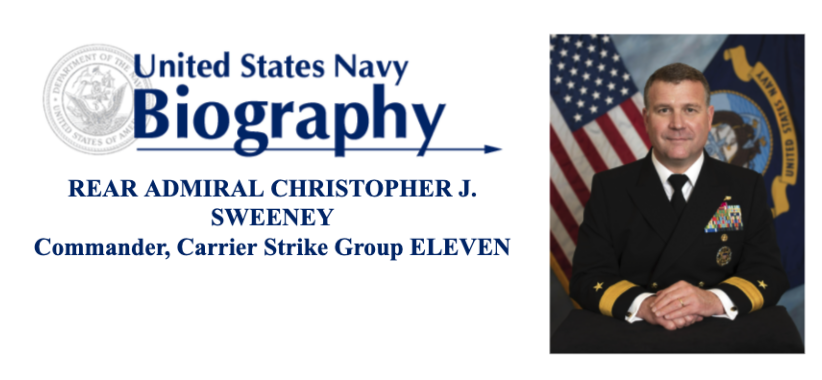 Rear Adm. Christopher Sweeney is a native of the Eastern Shore of Maryland, a 1991 graduate of the U.S. Naval Academy and also a graduate of the Elliott School of International Affairs, George Washington University, with a master's degree in International Policy and Practice.
Sweeney has served in a diverse range of sea and shore assignments. As a surface warfare officer, he commanded Destroyer Squadron 15 (CDS 15) from 2015 to 2016 in the Western Pacific and the Destroyer USS Decatur (DDG 73) from 2009 to 2010, deploying twice to the Arabian Gulf in support of U.S. and Coalition Forces in Iraq and Afghanistan.
His service at sea since 1992 includes assignments aboard USS Russell (DDG 59), USS Port Royal (CG 73), USS Paul Hamilton (DDG 60), USS Cyclone (PC 1) and USS San Jacinto (CG 56) deployed to the Middle East, Western Pacific, Mediterranean and South America.
His shore tours included deputy for Combat Systems and Warfighting Integration, responsible for future surface combatant force requirements and integration of warfighting investments for the Director of Surface Warfare (N-96). He has also served as the branch head for Integrated Air & Missile Defense for the Director of Surface Warfare (N-96) and as a strategic and political-military planner on the staffs of the Joint Chiefs of Staff (J-5) and the Chief of Naval Operations.
His first Flag Tour was as the Deputy Director for Policy, Plans, Strategy, Capabilities and Resources (J-5/8), U.S. European Command in Stuttgart. Germany.
His awards include the Defense Superior Service Medal, Legion of Merit, Joint Meritorious Service Medal, Navy Meritorious Service Medal and various personal, unit, service and campaign awar
Source: Bellevue Rotary Club