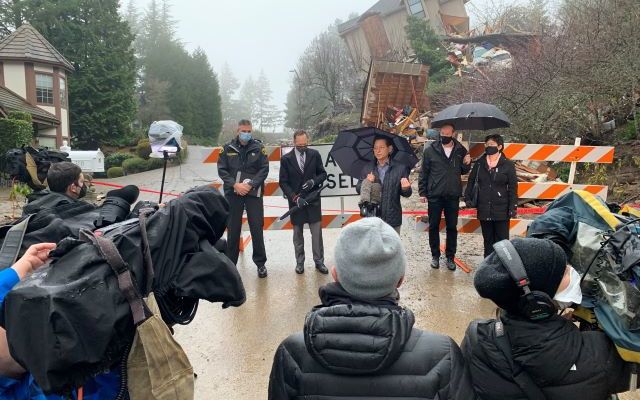 Damage and safety assessments ongoing with goal of allowing displaced residents back into homes as soon as possible
Two days after a house in Bellevue's Somerset neighborhood slid off its foundation in a debris flow and landslide, the City of Bellevue is continuing work to ensure the area is safe for displaced residents to eventually return to their homes. Seven families remain unable to enter their houses. Given the complexity of the incident, the safe and appropriate timing for their return is still unclear.
Emergency calls came into Bellevue's 9-1-1 center around 4 a.m. Jan. 17 reporting water flowing down the hill and roadways in the area near 139th Place Southeast and Southeast 51st Place. When first responders arrived on scene, one of the homes had been hit by a landslide and partially collapsed with a homeowner and pet inside. Emergency responders helped residents from that home and 15 other homes nearby to leave the area safely. Thirty people were taken to an area community center to find temporary shelter.
"We are very fortunate that no one was seriously injured and we want to keep it that way," said Bellevue Fire Chief Jay Hagen.
"A big priority of ours is safety and we want to be certain this area is safe for residents, pedestrians and vehicles in the area so we are working as quickly as possible to assess this scene and get the remaining residents back in their homes if that's possible," added City Manager Brad Miyake. "We're grateful for the neighbors here who watch out for each other and raised the alarm in the early morning hours, and to our first responders who were able to make sure everyone was able to get out safely."
Staff members from the city's Development Services department are further assessing the safety and stability of the scene in the immediate area and working with the homeowners of the partially collapsed home to isolate and remove any hazards that remain a risk to the neighborhood such as falling debris or further sliding of the structure, with the goal of allowing as many residents as possible to return to their homes as quickly as possible.
As of Wednesday, seven homes remained "red tagged" in which residents were unable to return. Staff has been in direct contract with these impacted individuals and are working to assist them this process.
Officials from Bellevue Utilities confirmed that an eight-inch water main was the source of the rushing water in the area but were not yet sure what led to the break in the pipe or the cause of the landslide. The city's investigation, along with other state agencies carefully assessing the geotechnical conditions, continues and will likely take weeks, if not months, to complete.

The area near Southeast 51st Place and 139th Place Southeast remains closed to through traffic and the area in the immediate vicinity of the collapsed home is restricted. The public is advised to avoid the area until further notice.
Impacted owners and neighbors can contact Mark Heilman in Neighborhood Services if they have questions at 425-452-2735 or [email protected]. The city will continue to post major updates as the situation evolves.

Source: City News