Date posted: February 2, 2022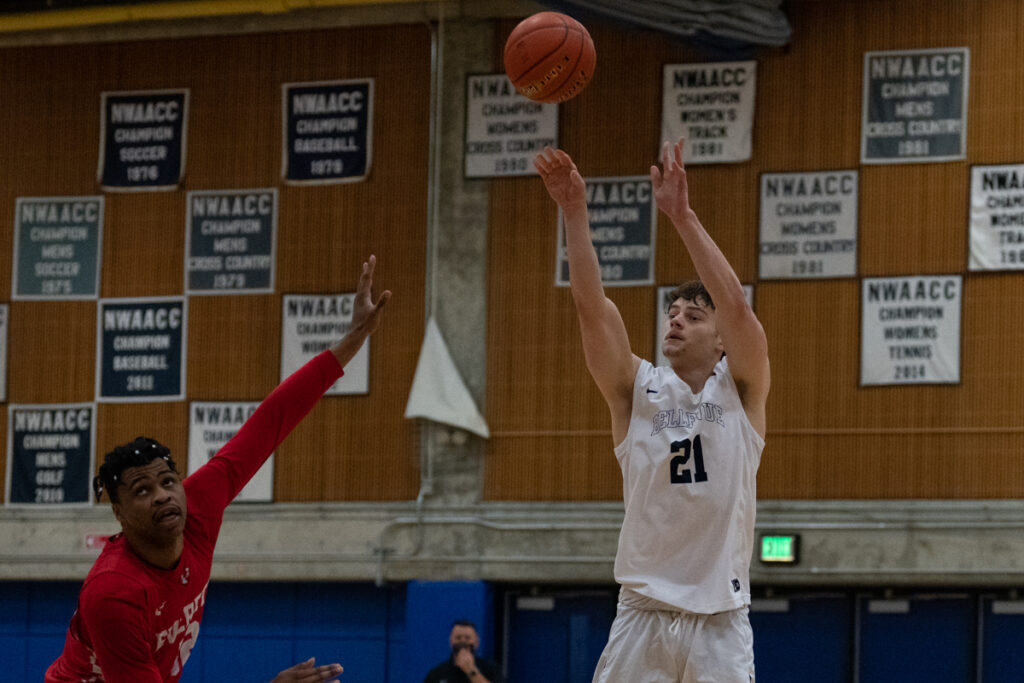 Bellevue College fell victim for the second time in a week to red-hot shooting that could not be stopped as visiting Shoreline defeated Bellevue 98-76 tonight at Courter Family Athletic Pavilion. The loss was Bellevue's second in a row after being named the top-ranked team in the NWAC TicketSmarter Coaches' Poll last week. In a shootout that featured over 130 field goal attempts, Shoreline netted 51 points in the first half after jumping ahead 12-4 early on. Shoreline shot the lights out on 67% shooting and was hotter the further out towards the perimeter by nailing 6-of-7 three-pointers for 86%. The Dolphins' David Perkins single-handedly buried BC early by making 5-of-6 from three-point range to give Shoreline early momentum. Bellevue could not stop Shoreline's offense as the Dolphins extended out to a 19-point lead at 51-32 at halftime.
BC never could catch up as Shoreline's Perkins nailed another three-ball to give them a 25-point lead at the 8:25 mark. Bellevue's Aydan Janssan caught fire in the second half with 13 points. He had 19 for the night while Ben Olesen led the 'dogs with a game-high ten rebounds.
Bellevue is now 2-2 in region play and 12-4 overall. The 'dogs travel to play Olympic, a surprise team in the North sitting at 3-1, on Saturday February 5 at 4:00 p.m.
Last Updated February 2, 2022
Source: Athletics Department